Ideas for Everyday Eating | Pizza Toppings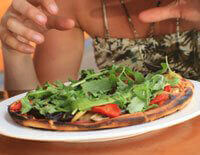 Pizza toppings are limited only by your imagination! Here are some quick ideas:
Chop up whatever veggies are on hand and drizzle some olive oil over them.
Try some unusual toppings, like sun-dried tomatoes, beans, spinach, or pineapple.
Add different sauces, like pesto or red pepper-and-garlic purée.
Get creative with faux meats—top your pizza with veggie burger crumbles, veggie bacon, veggie pepperoni, or even veggie chicken. You'll get the flavor and texture of meat but without all the nasty cholesterol and cruelty.
Pizza Crust is easy to make at home with flour, salt, yeast, and water.
If you don't have time to make vegan pizza dough, you can use vegan pita bread or tortillas instead. If you're near a Trader Joe's grocery store, its pre-made pizza dough is vegan and can be found in the refrigerated section.
For a Mexican pizza, pile on refried beans, tomatoes, black olives, soy cheese, and salsa.
Try these brands of vegan cheeses: Follow Your Heart, Tofutti, Daiya, or VeganRella. You can also make a melted "cheese" sauce out of nutritional yeast. Try some of the recipes in The Ultimate Uncheese Cookbook.
For a ricotta-like topping, try crumbling tofu and mixing it with lemon juice, basil, garlic powder, and salt.
Try some of our favorite pizza dishes, like Roasted Veggie Pizza and Greektown Pizza.
Respond