Homemade Vegan Naan
Naan is a bread like many others: We love eating it—often in excess—at restaurants, but we don't dare make it at home. Well, after eating the most delicious naan in the world at a local Indian vegetarian restaurant recently, I decided I was finally up for the at-home challenge.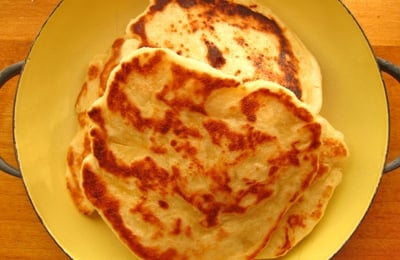 The recipe I found had a few more bells and whistles than I was ready for, so I decided to simplify it by veganizing it. I was left with a straightforward, simple recipe, but since it was my first time, I was still a little nervous.
The trickiest part of mastering a new dough, in my opinion, is knowing what texture and density you are going for. It's easy to add too much or too little flour to the mix, which can result in a completely different product.
Through trial and error, I learned that the dough for naan should be soft and light, so be careful not to use too much flour. The other key step is to cook the naan properly, so don't try to brown every square inch of the naan. When your bubbles brown, you're done.
Enjoy!
Homemade Vegan Naan
1 tsp. active dry yeast (1/2 package)
1/2 cup warm water
1 Tbsp. sugar
3 Tbsp. soy milk
1 tsp. salt
1 3/4-2 cups bread flour
2 Tbsp. olive oil
In a large bowl, dissolve the yeast in warm water. Let stand about 10 minutes, until frothy.
Stir in the sugar, soy milk, salt, and enough flour to make a soft dough, between 1 3/4 to 2 cups.
Knead for 6 to 8 minutes on a lightly floured surface or until smooth. Place in a well-oiled bowl, cover with a damp cloth, and set aside to rise. Let it rise 1 hour, until the dough has doubled in volume.
Punch down the dough then roll into golf ball-size pieces and place on a baking sheet. Cover with a towel and allow to rise until doubled in size, about 30 minutes.
Preheat a pan to high heat and lightly oil. Roll each ball of dough into a thin circle then add to pan one at a time. Cook for 2 to 3 minutes, or until bubbles begin to brown and brush the top side with additional oil. Flip the bread and cook for 2 to 3 minutes on the other side. Continue until all the bread is cooked.
Makes 6 servings
Respond