Hearty Vegan Chili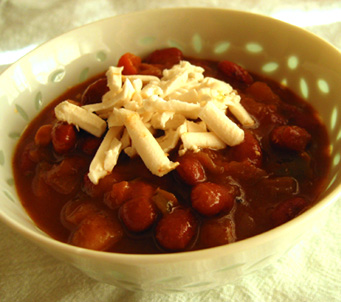 Some chili enthusiasts would say that chili should never contain any type of bean—ever—but I say that chili should always contain at least one type of bean, if not more!
Many chili cookoffs don't even include beans on the list of approved ingredients, but for vegetarian chili they are necessary, in my opinion, because they bring a heartiness that cannot be achieved with veggie and faux meats alone. When slow-cooked with vegetable stock, diced tomatoes, herbs, and spices, they absorb the spicy, flavorful broth like little sponges.
The recipe here is a simple hearty chili that puts beans front and center. You can always spice it up a bit by adding more chili powder, hot sauce, or jalapeños, and you can make it even more nutritious by tossing in veggies like squash, zucchini, bell peppers, and carrots. Enjoy!
Hearty Vegan Chili
2 Tbsp. oil
6 garlic cloves, minced
1 cup chopped white onion
1 lb. defrosted veggie burger crumbles (optional)
Red pepper flakes, to taste
1 Tbsp. chili powder
2 1/2 tsp. cumin
1 tsp. oregano
1 bay leaf
28-oz. can diced Mexican-style tomatoes
1 Tbsp. soy sauce
1 1/2 cups vegetable stock
6 oz. tomato paste
1 Tbsp. red wine vinegar
16-oz. can pinto beans, drained and rinsed
28-oz. can kidney beans, drained and rinsed
Vegan cheese (optional)
•Heat the oil in a large pot over medium heat.
•Add the garlic and onion and sauté until softened, about 5 minutes.
•Add the veggie burger crumbles, if using, red pepper flakes, chili powder, and cumin and cook for an additional 2 minutes, or until fragrant.
•Add the oregano, bay leaf, tomatoes, soy sauce, stock, tomato paste, and vinegar, then bring to a boil, lower the heat, and simmer 30 minutes, stirring occasionally.
•Add the beans and simmer 15 minutes longer to heat through and blend flavors.
•Add more water, if necessary, or cook longer to reach desired consistency.
•Top with shredded soy cheese if desired and serve.
Makes 8 to 10 servings
Related Posts
Respond