Create Your Own Canine First Aid Kit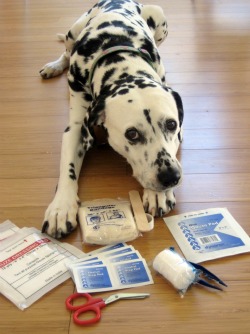 The following post was written by PETA Celebrity Marketing Coordinator Lauren Gordon.
Regular readers of this site may already know that I love my pooch Penny and am a stickler for safety. So when I heard about a workshop on dog safety and first aid with Melanie Monteiro, author of The Safe Dog Handbook, I immediately signed up. Melanie provided a ton of useful tips and ways to help keep our furry friends safe in emergency or dangerous situations.
Accidents can—and do—happen, so being prepared is crucial to keeping your dog safe. A simple yet important place to start is by programming useful contacts into your mobile phone, to ensure that emergency numbers are at your fingertips and you don't waste valuable time searching for them when needed. Program the phone numbers and addresses of your veterinarian and a 24-hour emergency animal hospital into your phone. If possible, save the addresses in your car's GPS.
In honor of National Poison Prevention Week, March 19–25, I'd like to call attention to commonly found items that can be poisonous to canine companions. Human medications topped the list of pet toxins in 2010. Accidentally dropped or misplaced pills can seem like treats to our furry friends. Household toxins or cleaners, insecticides/rodenticides, and plants are also common toxins for dogs. Being aware of these toxins and exercising prevention can help keep your animals safe. The ASPCA Poison Control Center 24-hour hotline (1-888-426-4435) is another valuable resource to have in your address book.
A canine first aid kit will help provide a swift and efficient response to an accident or injury. Purchase a pre-made first aid kit or create your own by filling a small container or bag with key supplies, many of which can be found at your local drugstore. Keep one at home and make one to have in the car for when you're on the go. The first thing to do in the event of an accident or injury is to consult a veterinarian. Many of the items found in a first aid kit should only be administered under the vet's guidance, but having them readily available allows for quicker treatment and can minimize pain or discomfort that your animal may be experiencing. Some of Melanie's suggestions for items to include in a first aid kit include the following:
Muzzle or strip of fabric to prevent biting (in cases of severe pain during treatment but only when there is no injury to the throat or neck, vomiting, or difficulty breathing)
Leash
Pediatric digital rectal thermometer plus water-based lubricant
Oral syringe
Tweezers
Saline eye wash
Epsom salts
Rubber gloves
Mild soap
Cut- and wound-care items: hand sanitizer, antiseptic (povidone-iodine) solution such as Betadine, elastic or ace bandage, stretchable gauze, gauze pads, non-stick bandages, non-scented sanitary pads (for heavily bleeding wounds), first aid adhesive tape, blunt scissors
It is important to consult with a veterinarian before administering any treatment or medication, especially the following:
Hydrogen peroxide #3% USP (to induce vomiting)
Toxiban or other vet-approved activated charcoal (for use in certain poisoning emergencies)
Diphenhydramine antihistamine, or Benadryl (to counter allergic reactions)
See additional information on creating a first aid kit for your canine companion here. Learn more about dog safety by checking out The Safe Dog Handbook or viewing Melanie Monteiro's YouTube Channel for videos on dog safety tips.
Respond