I Want Vegan Cookies!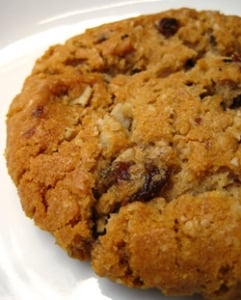 And I want them now! Sure, you can find Oreos everywhere, and many store-brand cookies are vegan, but sometimes you want that extra-special cookie. Well, you're in luck because finding great vegan cookies is now a cinch.Here are some of my favorite brands:
•Liz Lovely: My favorite is the soft chocolate chip "Cowgirl Cookie."
•Alternative Baking Company: This was the first brand of pre-made vegan cookies I ever tried, and it's still a favorite to this day. "Explosive Espresso Chip" is hands down my favorite.
•Uncle Eddie's Vegan Cookies: I've got to recommend the "Oatmeal Chocolate Chip." Are you guys seeing a pattern here?
•Lucy's: These low-calorie crispy cookies can be purchased in a 12-pack sampler.
•Nana's: Who can resist a dessert called "Nana's Fudgy Wudgy Cookie Bars"? You have to try one.
•Sun Flour Vegan Cookies: The delicious and filling "Banana Nut" cookie is practically a meal in itself.
As I said, there's no need to worry about how you're going to get your hands on these delicious treats—which I must admit are listed in order of preference. You can find these online, at health-food stores, and at some major grocery stores, such as Whole Foods. And if you have tips on where to find other yummy, pre-made vegan cookies, please share in a comment below!
Related Posts
Respond