Vegan Puppy Chow (for Humans Only)
"Puppy Chow" is a holiday staple for me. It's easy to make, tastes fantastic, and makes a great DIY gift. Whip up a batch, and put it into tiny baggies or present it in mason jars decked with pretty holiday ribbons and tags.
This recipe is also great to make for a cookie swap, because you can make a lot with relatively little work. And, trust me, it's a crowd pleaser—so no one will even notice that you took the easy route.
What is your favorite holiday treat? Be sure to share with us in the comments box below.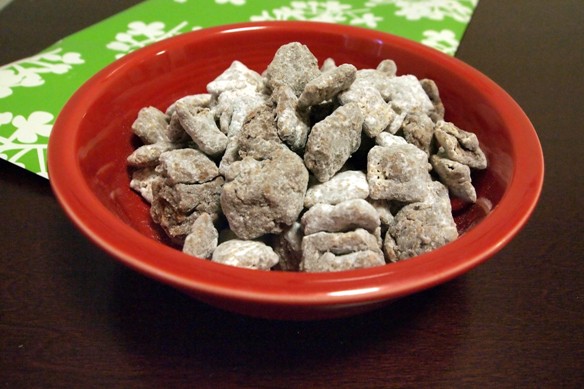 Vegan Puppy Chow
1 cup semi-sweet vegan chocolate chips
1/2 cup creamy peanut butter
1/4 cup vegan margarine
9 cups rice cereal squares
1 tsp. vanilla (optional)
1 1/2 cups powdered sugar
Combine the chocolate chips, peanut butter, and vegan margarine in a microwave-safe bowl and heat for about 1 minute, or until melted. Add vanilla.
Place the cereal squares in a large container and pour in the chocolate mixture. Stir gently until all the squares are coated.
Add the powdered sugar to the container and seal with a lid. Shake gently until the sugar has coated all the squares.
Place in the freezer for 30 minutes, or until the chocolate hardens. Once solidified, store in the refrigerator.
Makes 9 cups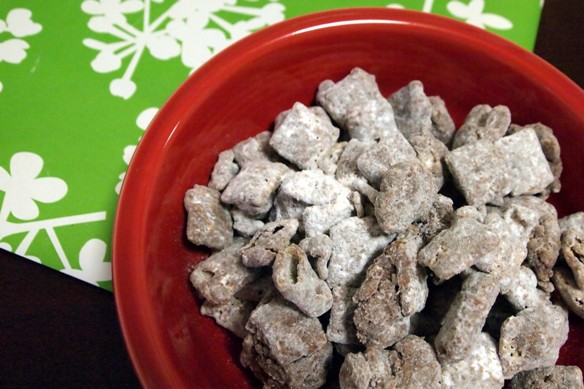 Respond