Vegan Pumpkin Doughnut Holes
Written by
October 1, 2013
|
Nothing says fall quite like pumpkin! Treat yourself this season with these delicious pumpkin doughnut holes. They pair great with your morning coffee or a big glass of almond milk. Enjoy!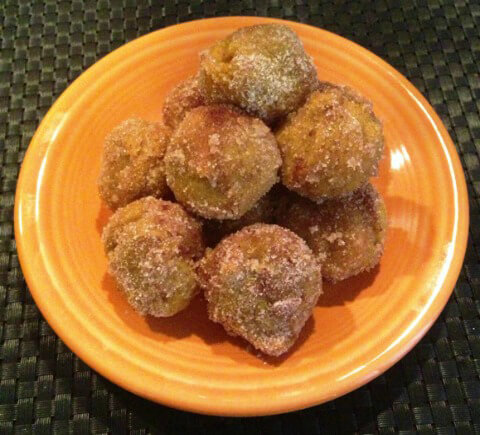 Vegan Pumpkin Doughnut Holes
1 3/4 cups all-purpose flour
2 tsp. baking powder
1/2 tsp. salt
1 tsp. cinnamon
3/4 tsp. nutmeg
1/2 tsp. ginger
1/2 tsp. allspice
1/2 cup vegetable oil
1/2 cup packed brown sugar
1 flax "egg" (1 Tbsp. ground flax seeds + 3 Tbsp. water)
1/2 cup almond milk
1/2 tsp. vanilla extract
8 oz. puréed pumpkin
Optional doughnut coating:
1/4 cup sugar + 1 Tbsp. cinnamon
1/4 cup vegan margarine, melted
• Preheat the oven to 350ºF.
• In a large bowl, mix together the flour, baking powder, salt, cinnamon, nutmeg, ginger, and allspice.
• In a separate bowl, mix together the vegetable oil, brown sugar, flax "egg," almond milk, vanilla extract, and pumpkin.
• Combine the two mixtures in one bowl and stir until well combined.
• Pour evenly into a mini-muffin tin. Bake for 10 to 12 minutes.
• Optional doughnut coating: After your doughnuts have cooled, dip each doughnut in the melted margarine, then roll in the cinnamon-sugar mixture.
Makes 12 to 14 servings
Respond
In This Section