Thai Carrot Soup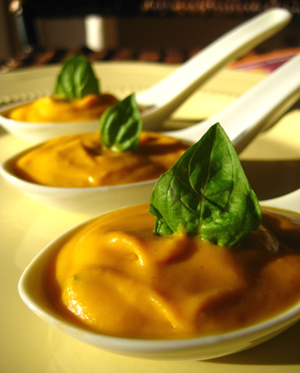 Spring is here, which means that here in Atlanta, we are experiencing beautiful 60- and 70-degree weather but with nasty freezing cold mornings still thrown into the mix. Before the heat settles in for good, I decided to get my last fix of a thick, creamy, warm soup—because hot foods will only be making rare appearances on my menu over the next few months.
With a quick search, I found several recipes online that use carrots and coconut milk blended into a thick soup, and I decided to give a combination of the recipes a try. Some of them added additional flavor with curry and some with basil, but I decided to just use them both! Combined with the coconut milk, the soup was sort of a full-blown Thai ingredients extravaganza.
While researching recipes, I also came across an interesting site, ThaiTable.com, that is strictly dedicated to Thai cuisine—from ingredients info and recipes to travel and more. If you enjoy this soup or Thai food in general, check out the site for more recipes that can be easily veganized.
Thai Carrot Soup
1 Tbsp. olive oil
2 tsp. curry powder
1 clove garlic, minced
1/2 medium onion, diced
1 medium bay leaf
1 lb. carrots, peeled and sliced
2 cups vegetable broth
1 cup coconut milk
1/4 cup chopped basil, plus more for garnish
Salt and pepper, to taste
Heat the olive oil over medium heat, add the curry and garlic, and toast about 30 seconds. Add the onions and sauté until translucent.
Add the bay leaf, carrots, and broth. Increase the heat to medium high and bring to a boil, then reduce the heat to medium low and simmer until the carrots are soft, about 20 minutes. Discard the bay leaf.
Place the mixture in a blender and process until smooth. Slowly add the coconut milk, blending until very smooth.
Pour into a clean pot and return to the stove over medium heat. Add the chopped basil and season with salt and pepper, if desired.
Garnish with basil and serve.
Respond