'Superfood Cuisine': Maca-Macaroons
The following article was written by Keegan Baur.
I love dishes that are quick and easy to make and that satisfy my sweet tooth … oh, and also that are healthy for me! Show me a recipe that combines all three of these things, yielding a trifecta of deliciousness, and I want. This is exactly what Julie Morris delivers with her Maca-Macaroons recipe from Superfood Cuisine: Cooking With Nature's Most Amazing Foods.
These are coconutty, almost peanut buttery, no-bake cookies that pack a serious punch, and the secret ingredient—or not-so-secret since it's in the title—is maca powder. This nutrient-dense superfood is said to increase energy, balance hormones, reduce stress, elevate mood, and enhance libido. And with benefits like that, there isn't much guilt in grabbing a second or a third or even a fourth cookie! Who's counting, anyway?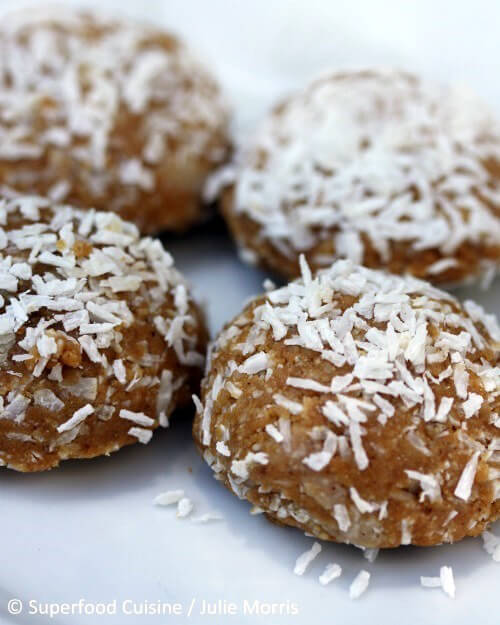 Maca-Macaroons
1 cup raw Brazil nuts
1 1/4 cup unsweetened shredded coconut, plus extra for rolling
1 1/2 Tbsp. maca powder
3/4 cup (packed) soft Medjool dates (about 7 or 8), pits removed
1 Tbsp. maple syrup
1 Tbsp. vanilla extract
1/4 tsp. sea salt
Grind all ingredients (except the extra shredded coconut) together in a food processor until a coarse dough has formed. Pinch and make sure that it sticks together yet still crumbles like a cookie. If it's too dry, add water―a teaspoonful at a time―until it holds together. If it's too wet, add spoonfuls of extra coconut until it's just right.
Form into balls, about a tablespoonful at a time, and roll in extra coconut. Flatten into cookies and serve. Kept covered, these cookies will last several weeks.
Makes about 20 cookies
Want more superfood cuisine? Readers can now download a free superfood booklet with the introduction to Julie's new book and a few free recipes!
Superfood recipes previously posted on PETA Living:
Respond