Spaghetti and Marinara With Vegan Meatballs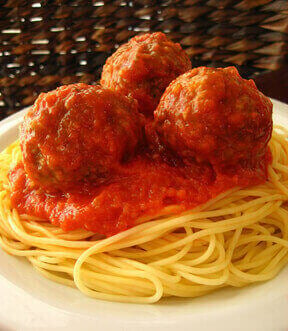 Spaghetti with marinara is a dish that I, like many, grew up on, but we never made it from scratch in my house. I'm not quite sure why my family would spend hours making homemade pies, cookies, jambalaya, and biscuits—to name just a few—but never ventured into the realm of a homemade tomato sauce.My first taste of a homemade version of the classic sauce came when I met my boyfriend. Our nightly meals started off on the more adventurous side, with dishes such as Wasabi Pea Encrusted Tofu Steaks topped with vegan Wasabi-Mayo, but like any relationship, things got a bit more tame over time.
When we finally moved on to making good ole comfort foods, he insisted that we always make the Italian-inspired dishes from scratch. Our pizza dough is never from a box that requires you to only add water, our ravioli is painstakingly rolled out by hand before being stuffed with sautéed mushrooms, and every tomato sauce is simmered, blended, and seasoned—never simply poured out of a jar.
Now that he has shown me that a homemade sauce is easy and that the fresh taste is definitely worth the minimal effort, I've expanded on his recipe below by adding my own soy meatballs to the mix. Enjoy the recipe, and check back tomorrow to find out what to do with the leftovers—if there are any.
Spaghetti and Marinara With Soy Meatballs
1/2 onion, diced
2 cloves garlic, minced
1 1/2 Tbsp. olive oil
2 14-oz. cans diced tomatoes
1/3 cup water
1 tsp. salt
1 tsp. pepper
1/2 tsp. sugar
1 tsp. dried basil
1 Tbsp. tomato paste
1 tsp. fresh lemon juice
Soy meatballs (see recipe below)
Prepared spaghetti
In a medium saucepan, sauté the onions and garlic in the olive oil over medium heat until the onions are translucent.
Add the tomatoes, water, salt, pepper, sugar, and basil. Bring to a simmer, then pour into a food processor or blender. Pulse 4 to 5 times, being sure to leave small chunks of tomato. Pour back into the saucepan and cook over medium heat.
Add the tomato paste, lemon juice, and soy meatballs and simmer on low heat for 20 to 30 minutes, stirring continuously. Adjust the seasonings if necessary.
Serve over prepared spaghetti or pasta of your choice.
Vegan Meatballs
1 14-oz. pkg. ground-beef-style Gimme Lean
1/2 cup bread crumbs
1/4 cup minced onion
2 cloves garlic, minced
1 Tbsp. vegan Worcestershire sauce
1 1/2 Tbsp. chopped parsley
Salt and pepper, to taste
1/3 cup water, or as needed
2 Tbsp. olive oil
Mix all the ingredients together, except the water and the oil. Add just enough water to make the "meatballs" moist.
Shape the "meatballs" so that they are approximately 1 to 1 1/2 inches in diameter.
Add the oil to a pan over medium heat. Add the meatballs and pan fry until lightly browned on all sides, about 10 minutes.
Respond