Simple Stuffed Bell Peppers
Written by
PETA
|
July 2, 2013
Looking for a quick and easy recipe to mix up your dinner routine? These simple stuffed bell peppers are a go-to for me. As a novice chef, I can attest to the easiness of this recipe. Even those of us who were not blessed with culinary capabilities can make these delicious and filling bell peppers!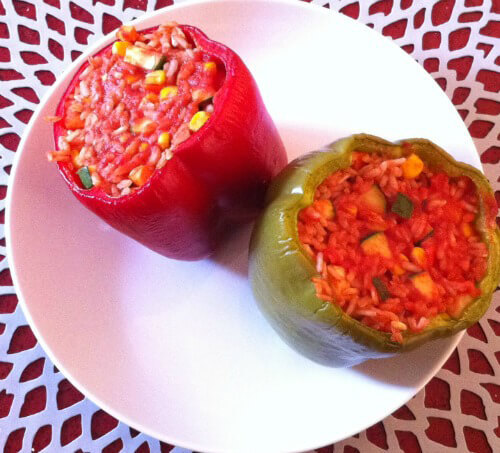 Simple Stuffed Bell Peppers
4 bell peppers
1 1/3 cups uncooked rice
Vegetable stock, for cooking the rice
1 cup chopped vegetables (Your choice! I used corn, carrots, and zucchini.)
1–2 8-oz. jars tomato sauce
Juice of 2 lemons
Vegan cheese (optional)
Preheat the oven to 300˚F.
Hollow out the bell peppers by cutting off the tops and removing the seeds, then rinse. (For smaller portions, cut the bell peppers in half.)
Cook the rice according to the package instructions but replace the water with vegetable stock.
Place the bell peppers on a baking sheet and bake in the oven for 5 minutes to soften.
Place the cooked rice in a large pot over low heat. Add the chopped vegetables and 1 to 1 1/2 jars of the tomato sauce and stir continuously until well mixed. Add the lemon juice, to taste, and mix well.
Spoon the rice mixture into the hollowed-out bell peppers, filling to the top.
Bake for 15 to 20 minutes, or until the bell peppers are soft but the filling isn't too dry. During the last 5 minutes of baking time, add tomato sauce and vegan cheese on top, if desired.
Makes 4 servings
Respond