Sicilian Couscous Salad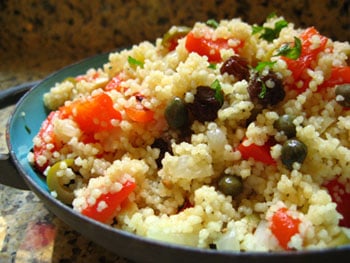 Many of you already know I'm completely obsessed with Gourmet magazine, which is why so many of its recipes show up here. Today's is no exception. I was trolling Epicurious for a summery salad to complement today's beautiful weather, and this couscous salad with raisins, roasted red peppers, pine nuts, and more jumped out at me. I then realized that it is, of course, from Gourmet.
The salad is described as an African-Sicilian hybrid—the couscous is a typical North African ingredient, and the raisins, garlic, olives, capers, peppers, and pine nuts are typical Sicilian ingredients. I've never had the pleasure of visiting Sicily myself, so until then I'll be forced to experience the Italian island through its cuisine.
It was a pleasure to "visit" Sicily through this salad because in addition to the rich flavors from the olives, capers, and garlic, it was easy to make. The salad took no time at all to prepare because very little cooking is required—perfect for these beautiful long days when I'd rather spend more time outside than behind a stove.
Sicilian Couscous Salad
From Gourmet magazine.
2 cups water
1/3 cup currants or raisins
3/4 tsp. salt
4 Tbsp. olive oil
1 1/2 cups couscous
2 large garlic cloves, minced
1 small onion, finely chopped
2 Tbsp. red wine vinegar
3 red bell peppers, roasted and chopped (jarred or roast your own)
1/2 cup pimento-stuffed green olives, thinly sliced
2 Tbsp. drained capers
1/2 cup pine nuts, toasted lightly
1/2 cup finely chopped fresh parsley leaves (preferably flat-leafed)
Salt and pepper, to taste
•Place the water, currants or raisins, salt, and 1 Tbsp. of the oil in a small saucepan and bring to a boil. Stir in the couscous and let stand, covered and off the heat, for 5 minutes. Fluff with a fork and transfer to a bowl.
•In a small skillet, cook the garlic in 2 Tbsp. of the oil over moderate heat, stirring, until pale golden. Add the onion and cook, stirring, until softened. Add to the couscous along with the vinegar, bell peppers, olives, capers, pine nuts, parsley, and remaining 1 Tbsp. of oil. Season with salt and pepper.
•The salad may be made 1 day ahead and chilled, covered. Bring to room temperature before serving.
Makes 6 to 8 small servings
Related Posts
Respond