Quick and Easy Cream of Potato Soup
Have you caught the winter blues yet? This past weekend, we had record lows in SoCal, and my hometown back in Ohio got hit with what appeared to be the snowpocalypse. Well, no worries—I have the remedy for your runny nose and freezing toes in the form of a Meatless Monday recipe.
I was lucky enough to come across this delicious recipe on Vegan Machine last week, and Kaycee was kind enough to let me share it. Enjoy!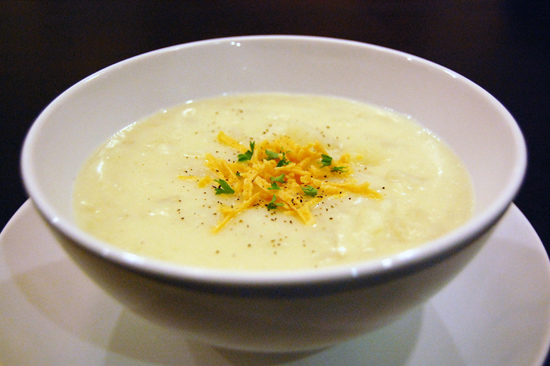 Quick and Easy Cream of Potato Soup
6–7 medium russet potatoes
3 Tbsp. vegan margarine
1/3 cup diced white onions
3 Tbsp. all-purpose flour
2 cups faux-chicken or vegetable broth
2 cups unsweetened soy milk
1 tsp. salt
2 Tbsp. cold water
1 Tbsp. cornstarch
Bring a large pot of water to a boil over medium-high heat. Add the potatoes and let cook for about 40 minutes, or until tender. Put in a large bowl and cover with cold water. Let cool for 10 minutes.
Peel and set aside.
In a large pot, add the vegan margarine and chopped onions. Sauté for 5 minutes over medium heat. Add the flour and combine thoroughly. Slowly add the broth and stir until no lumps remain. Add the soy milk and salt and continue to let cook while you prepare the potatoes.
Cut the potatoes into 1/2-inch-by-1/2-inch squares and add to the soup mixture. Mash with a potato masher to thicken if desired.
Mix the cold water and the cornstarch thoroughly in a small cup, then slowly add it to the soup while stirring continuously.
Let cook for another 10 to 15 minutes over low heat, stirring frequently.
Garnish with vegan cheese and black pepper if desired.
Respond