Peanut Butter Cookies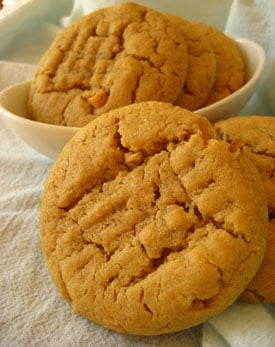 Peanut butter has made addicts out of many—myself included. For me, it's hard to resist eating the creamy and salty spread by the spoonful, by the jarful, on apples, with pretzels, or even mixed with pancake syrup. I think you get the idea.
It's no surprise that a P.B. junkie like me loves indulging in peanut butter cookies. They are often made not with just a hint of peanut butter but with entire cups of the creamy goodness. Some recipes are even flourless and consist of little more than just peanut butter, margarine, and sugar—a P.B. addict's dream come true.
My recipe below does contain flour, but it still has a whole cupful of peanut butter, so the flavor definitely shines through. Also, I always reach for the crunchy kind to add a little extra texture to the cookies.
Enjoy!
Peanut Butter Cookies
1 1/2 cups flour
1 tsp. baking soda
1/4 tsp. salt
1/2 tsp. baking powder
1/2 cup soy margarine, softened to room temperature
1 cup crunchy peanut butter
3/4 cup sugar
1/2 cup light brown sugar
1/4 cup soy milk
1 tsp. vanilla
•Preheat the oven to 350°F.
•In a medium bowl, mix the flour, baking soda, salt, and baking powder.
•In a large bowl, cream the margarine and peanut butter with an electric mixer until smooth and fluffy. Add both of the sugars and blend well. Add the soy milk and vanilla and blend again.
•Add 1/3 of the flour mixture to the margarine mixture and mix well. Continue with another 1/3 of the flour mixture, then the final 1/3, mixing after each addition.
•Roll the cookie dough into 1-inch balls and place on a greased cookie sheet. Allow room for the cookies to spread. Press down twice on each cookie with the back of a fork, making a crisscross pattern on top, but not flattening it.
•Bake the cookies for 10 to 12 minutes, until light golden brown. Remove from the oven and cool.
Makes 12 medium cookies or 2 dozen small cookies
Related Posts
Respond