Martha Stewart Recipe: Avocado Salad With Bell Pepper and Tomato
Martha Stewart's new cookbook, Meatless, (available here) features 200 of the very best vegetarian recipes around. What's more, any recipes that aren't already vegan can be with a few small changes.
We're big Martha Stewart fans already—she narrated an excellent anti-fur video for PETA—but this cookbook sealed the deal with its huge array of compassionate fare, including this Avocado Salad With Bell Pepper and Tomato.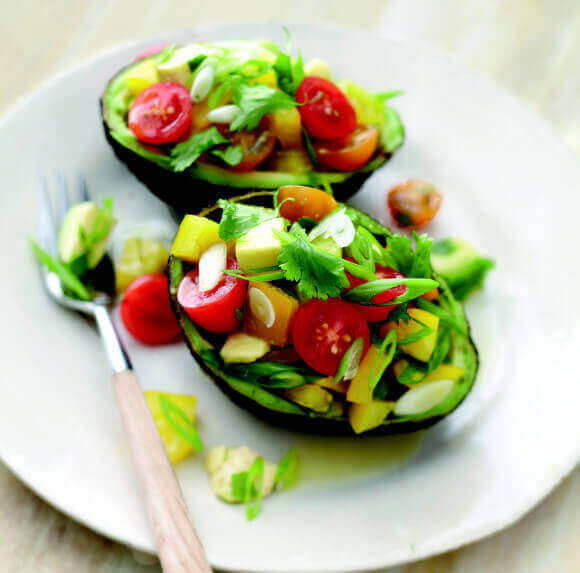 This salad can also be served as a topping for quesadillas or as a fresh filling for tacos!
Avocado Salad With Bell Pepper and Tomato
Adapted from Martha Stewart's cookbook Meatless
1 tsp. extra-virgin olive oil
Juice of 1/2 lime
1 small garlic clove, minced
Pinch cayenne pepper
Coarse salt, to taste
1 firm, ripe avocado, halved and pitted
1/2 yellow bell pepper, ribs and seeds removed and diced
6 cherry tomatoes, halved
1 scallion, trimmed and thinly sliced
1 Tbsp. chopped fresh cilantro leaves, plus whole leaves for garnish
In a small bowl, whisk together the olive oil, lime juice, garlic, and cayenne. Season with salt.
Scoop out the flesh from the avocado halves, reserving the shells, and chop. Transfer to a bowl and add the bell peppers, tomatoes, scallions, and chopped cilantro.
Drizzle with the olive oil mixture and season with salt. Gently stir to combine, then spoon into the reserved shells.
Garnish with the whole cilantro leaves and serve immediately.
Makes 1 serving
Respond