A Little Taste of the Vegan Mediterranean
The following article was written by Priyanka Naik of ChefPriyanka.com.
Getting bored with the same ol' dips and party foods? Then try my Roasted Red Pepper Tapenade with roasted garlic, onions, and chilies. It's scrumptious, it's zesty, it's bold, and—best of all—it's vegan! It's super-healthy too, so you won't feel guilty going back for seconds or thirds … or even fourths. Filled with the robust flavors of freshly roasted peppers and garlic, blended with a bit of tahini and lemon juice, this tapenade is made with ingredients that you may already have in the kitchen. Enjoy it with pita chips, crackers, and vegetables; spread it on your favorite sandwich; or drizzle it over falafel!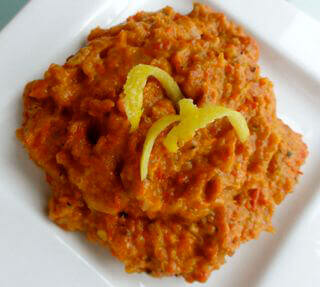 Roasted Red Pepper Tapenade
1 head of garlic, top trimmed off
Olive oil cooking spray
Salt and coarse black pepper, to taste
2 red peppers, cut into 1-inch chunks
1 medium white onion, diced
3-4 dried cayenne chilies
1 Tbsp. tahini
2-3 Tbsp. lemon juice, preferably fresh
2-3 Tbsp. warm water
2 Tbsp. extra virgin olive oil, more or less
Lemon peel, for garnish
Preheat oven to 400ºF.
Put the head of garlic on a small piece of foil and place it on a baking sheet. Coat with the cooking spray and sprinkle with salt and pepper. Fold the foil to create a packet. Bake for 10 to 15 minutes. Remove from the oven.
Surround the garlic packet with the red peppers, onions, and chilies. Spray the vegetables with oil, sprinkle with salt and pepper, and toss so each piece is coated. Put the baking sheet back into the oven and broil for 10 to 12 minutes, shaking the tray half way through so that the vegetables cook evenly. Remove and let cool before handling. The garlic should be soft and squeezable.
Once the vegetables are cool, peel off any excessively charred parts and put the rest into a food processor. Squeeze in all the garlic cloves, being sure not to add any skin. Add tahini, lemon juice, and salt and pepper. Pulse until just chunky. Blend on low and add a little warm water until the mixture looks a bit smoother. With the blender on a higher speed, drizzle in the olive oil until the dip is smoother still but not puréed. You want it to have texture. Adjust the salt and lemon juice to taste.
Place on a serving platter and top with lemon peel. Serve with pita chips, vegetables, crackers, or falafel.
Makes 4-6 serving
Respond