Key Lime 'Cheesecake'
The recipe below is for a tart and sweet vegan cheesecake that is extremely easy to make and has very few ingredients. Yes, the title says "key lime," but I'll go ahead and fess up that I cheated and used normal limes. You can too.
The tartness of the limes, regardless of variety, and the sweetness of the sugar do a good job of blending with the taste of the vegan cream cheese. I've tried many vegan cheesecakes where the flavor of the "cheese" is too strong, but not with this recipe. It's just right.
To make this summertime vegan dessert even easier, just use a prepared graham cracker crust from the store. I used the Kroger brand, which was conveniently labeled as vegan right on the front of the package. Enjoy!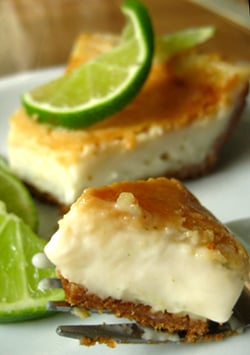 Key Lime 'Cheesecake'
2 pkgs. Tofutti plain cream cheese
1 cup sugar
1 tsp. vanilla
1/2 cup key lime juice
2 tsp. lime zest (grated rind of lime)
2 Tbsp. cornstarch
1 9-inch graham cracker crust
Preheat the oven to 350°F. Combine the "cream cheese," sugar, vanilla, lime juice, zest, and cornstarch in a blender and mix until smooth.
Pour the mixture into the graham cracker crust. Place the filled pie shell on a cookie sheet (the pie tends to boil over during cooking). Bake for 60 minutes or until the top turns golden brown.
Remove and let it set until cool to the touch, then chill in the fridge overnight.
Makes 8 servings
Respond