Hash Brown Recipe from 'The Vegan Muse'
The following was adapted from an article by Charlie Pinkston of The Vegan Muse.
In our home, we use the expression "The imperfections of life are half the charm." This is our positive mantra that we say to make light of the many bumps we encounter in life! For whatever reason, when something seems a bit off kilter, I am drawn to comfort foods. Sound familiar? When I say comfort foods, I do not mean heavy, junk-filled foods. I mean those foods that make me nostalgic, the foods whose scent of deliciousness wafts throughout your home.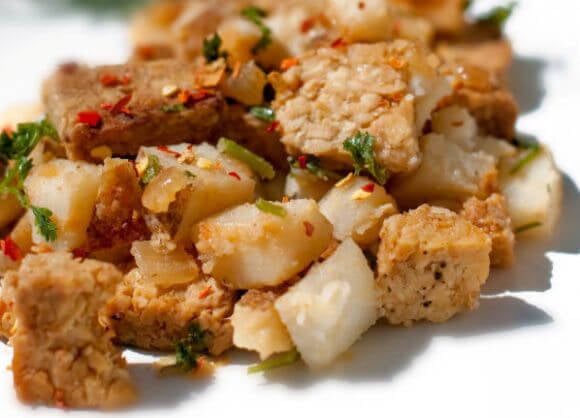 For an instant dose of comfort, this recipe always hits the spot.
A Grand Hash
4 medium potatoes, diced
Pinch sea salt
3 Tbsp. extra virgin olive oil
1/2 cup chopped scallions
1 pkg. tempeh, cut into 1/2-in. cubes
2 1/2 Tbsp. soy sauce
1/2 Tbsp. minced garlic
1/4 tsp. paprika
1/4 cup fresh chopped parsley
Sea salt and fresh ground pepper, to taste
Olive oil, to taste (optional)
Cover the potatoes with water in a large pot. Add a pinch of sea salt and bring to a boil.
Cook for 10 to 15 minutes, or until tender. Drain.
Coat a large skillet with the olive oil and sauté the scallions, tempeh, and soy sauce, stirring frequently until the tempeh is cooked through. Add the garlic, paprika, parsley, salt, pepper, and potatoes. Mix well.
Drizzle with extra olive oil, if desired.
Makes 2 to 4 servings
Respond