Giada's Holiday Rice Pudding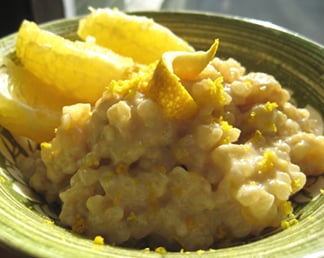 Just because I'm vegan doesn't mean I'm not mildly obsessed with the Food Network, like many of you out there. Now if only they'd hold a vegan Iron Chef competition, I think my life would be complete.
In the meantime, I can pick and choose which recipes I want to veganize, and today's winner is a rice pudding created by Giada De Laurentiis and featured on the Food Network's vegetarian Christmas menu. (Psst…I'm also featuring another item from the menu in a guest post on Almost Vegetarian sometime before Christmas. I can't tell you which one, but be sure to check it out.)
Rice pudding has long been a traditional holiday dish worldwide. Wikipedia's rice pudding page describes variations of the dish that can be found in Asia, the Middle East, Europe, and the Americas and gives the history of the dessert. Some of the recipes are already vegan, like the Puerto Rican version, which is made with coconut milk, and the others can be easily veganized.
Giada's recipe is one that fell into the "easily veganized" category, because I only had to substitute the soy milk. Once this creamy pudding started simmering on the stove and the smell of vanilla and orange zest filled the air, I knew that Christmas is almost here—and that I had found the perfect dessert to finish off my holiday meal.
Rice Pudding With Vanilla, Orange, and Rum
5 cups soy milk
2/3 cup arborio rice or other short-grain white rice
1 tsp. vanilla
1/2 cup sugar
2 tsp. dark rum
1 tsp. grated orange peel
Orange segments
Combine the soy milk, rice, and vanilla in a heavy medium saucepan. Bring to a boil, then reduce the heat to medium and simmer until the rice is tender, stirring frequently, about 25 minutes.
Mix in the sugar, rum, and orange peel. Cook until the mixture thickens, about 5 to 10 minutes longer.
Spoon the rice pudding into bowls. Cover and refrigerate until cold, about 5 hours. Serve with orange segments.
Makes 4 to 6 servings
Respond
In This Section