Copycat Recipe: Homemade Vegan 'SpaghettiOs'-Style Pasta
Written by
November 13, 2013
|
As a kid, I always loved SpaghettiOs! And this homemade vegan copycat recipe takes me right back to my childhood. This grown-up version is cruelty-free and full of flavor, and it doesn't taste like the inside of a metal can. It's also kid-friendly, which is great since it reheats nicely and can be easily stored for future meals. That is, if there are any leftovers.

Enjoy!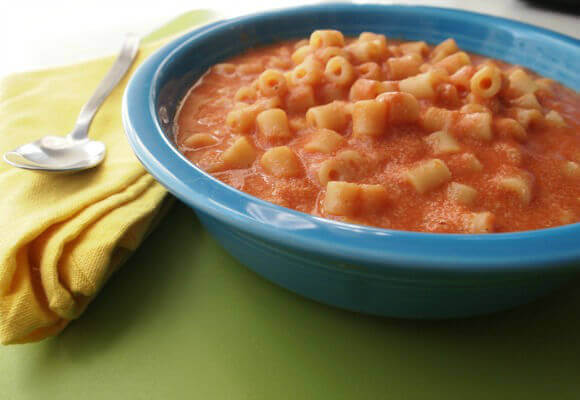 Homemade Vegan 'SpaghettiOs'-Style Pasta
8 oz. ditalina pasta (or other small pasta of your choice)
1 Tbsp. high-heat cooking oil
2 cloves garlic, crushed or 1/4 tsp. garlic powder
1 tsp. crushed red pepper flakes
1/4 tsp. dried basil
1/4 tsp. dried oregano
1/2 tsp. salt
1/4 tsp. black pepper
1 15-oz. cans tomato sauce
1 cup water
1 Tbsp. tomato paste
1/2 tsp. granulated sugar
3 Tbsp. vegan margarine
1/4 cup nondairy milk (almond and soy both work well in this recipe)
1/4 cup nutritional yeast or shredded vegan cheese
Cook the pasta according to package instructions. When done cooking, strain and set aside.
While the pasta is cooking, heat the olive oil in large sauté pan over medium heat. Add the garlic, red pepper flakes, basil, oregano, salt, and pepper and stir.
Add the tomato sauce, water, tomato paste, sugar, and vegan margarine. Continue stirring until well combined and the vegan margarine is melted.
Slowly stir in the nondairy milk and nutritional yeast. Reduce the heat to low and simmer for 10 minutes.
Add the cooked pasta and stir until well incorporated. Serve immediately.
Makes 4 servings
Related Posts
Respond