Chocolate-Chili Truffles
For Valentine's Day, many of us are searching for that perfect gift that will surprise and excite. These truffles, with the combination of chocolate and chilies, will do just that.
This super-easy recipe has just a hint of chili powder and a lot of chocolate. Both are known aphrodisiacs and will certainly help with that "excitement" you're seeking. And depending on your threshold for pain, or some might say pleasure, you can kick up the heat by adding more chili powder or using fresh chilies simmered in the "cream."
Chocolate-Chili Truffles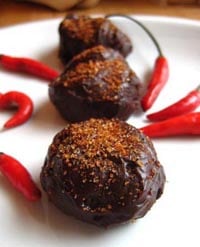 1/2 lb. semisweet vegan chocolate, finely chopped
1/3 cup soy creamer
1 Tbsp. light corn syrup
1 1/4 tsp. ancho chili powder, divided
2 Tbsp. soy margarine, at room temperature
2 Tbsp. turbinado sugar
1/4 tsp. ground cinnamon
1/4 tsp. sea salt
Place the chocolate in a medium microwave-safe bowl. Heat at 50 percent power in the microwave until soft, about 1 minute. Stir and continue to heat until completely melted, about 1 minute more.
Meanwhile, bring the soy creamer, corn syrup, and 1/4 tsp. of the chili powder to a simmer in a small saucepan over medium heat.
Gradually whisk the "cream" into the chocolate until smooth and shiny, then whisk in the margarine until very smooth. Cover the surface of the chocolate with plastic wrap. Set aside in a cool spot until slightly firm, about 1 hour.
Meanwhile, mix the turbinado sugar, the remaining 1 tsp. chili powder, the cinnamon, and the sea salt together and set aside.
Line a baking sheet very tightly with plastic wrap. Pipe or spoon the truffle mixture onto the plastic wrap and sprinkle the tops with the sugar-chili mixture. Refrigerate until set, about 15 minutes.
Makes 25 truffles
Respond