Black Bean Veggie Burgers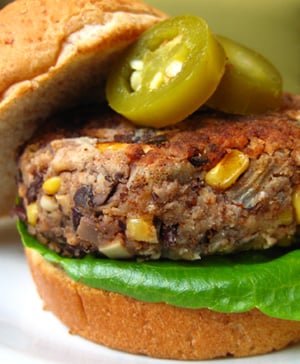 To stick with my theme of cheap vegan eats, I've decided to feature a recipe for a homemade veggie burger using black beans as the base.
By making your own burgers, you can stretch your dollar pretty far and you can completely control the flavor. For black bean veggie burgers, the only real requirement is, well, black beans. (By the way, bean-based burgers are a great alternative for people who have a soy allergy.) After mashing the beans, you can throw in just about any spices and veggies you like to create a tasty mix for your patty. I highly recommend trying these with the onion rings that I featured a couple of days ago. Enjoy!
Black Bean Veggie Burgers
2 Tbsp. olive oil
1/2 cup diced red onion
1/2 cup diced bell pepper
1 clove garlic, minced
1 jalapeño, minced
2 cups black beans
1/2 cup corn
1/2 cup bread crumbs
1/2 tsp. cumin
2 Tbsp. chopped cilantro
1 tsp. salt
1/2 cup flour
In a saucepan over medium heat, in 1 tablespoon of the olive oil, sauté the onion, bell pepper, garlic, and jalapeño for 4 to 5 minutes. Remove from heat and set aside.
In a mixing bowl, mash the black beans, then add the sautéed vegetables, corn, and bread crumbs and mix well. Season with cumin, cilantro, and salt and mix again.
Shape into 6 patties, then coat each in flour.
Place a pan over medium-high heat and add the remaining tablespoon of oil. Cook each patty for about 5 minutes on each side, or until lightly browned.
Makes 6 small patties
Respond