Best Vegan Pizza in the Nation
There's never been a better time to enjoy pizza as a vegan! Thanks to the availability of nondairy cheeses (store-bought or house-made with a cashew base), tasty faux-meat products, and excellent vegetable combinations, more and more pizzerias across the nation are expanding their menus to include mouthwatering vegan pizzas.

Dozens of PETA staff members drooled over the impressive list of options for vegan pizza in the U.S. It was a tough job, but we're proud to announce the winners of our best vegan pizza contest.
The winners will receive framed certificates to place in their restaurants, plus unlimited bragging rights for their delectable vegan pizzas. Bravo!
This New Orleans–based pizza spot is the perfect place when you need a NOLA-themed pizza fix, with its Red Beans and Rice Pizza that tantalized our taste buds. As a bonus, vegan cheese is available for any of the restaurant's pizzas.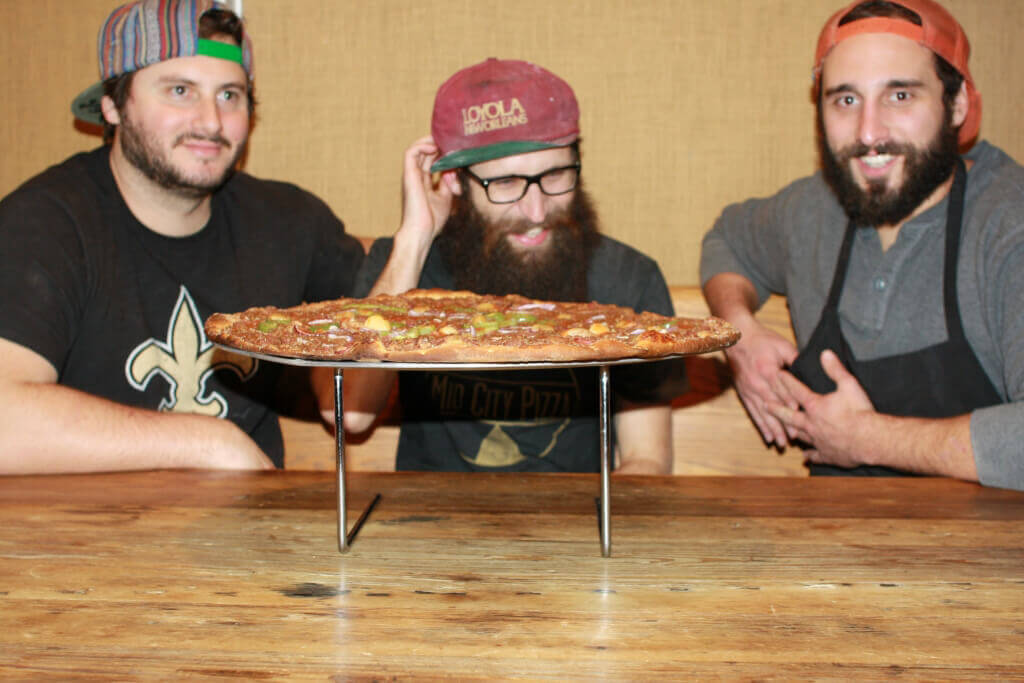 This Long Island, New York, pizzeria makes our list once again, having an entire vegan menu that boasts Italian-American favorites such as "mozzarella" sticks, fried "calamari," and Caesar salads to accompany its award-winning pizza, The Works. Topped with seitan meatballs, seitan sausage, soy pepperoni, onions, green peppers, mushrooms, Daiya mozzarella, and tomato sauce, it's no wonder that this pizza was named the very best!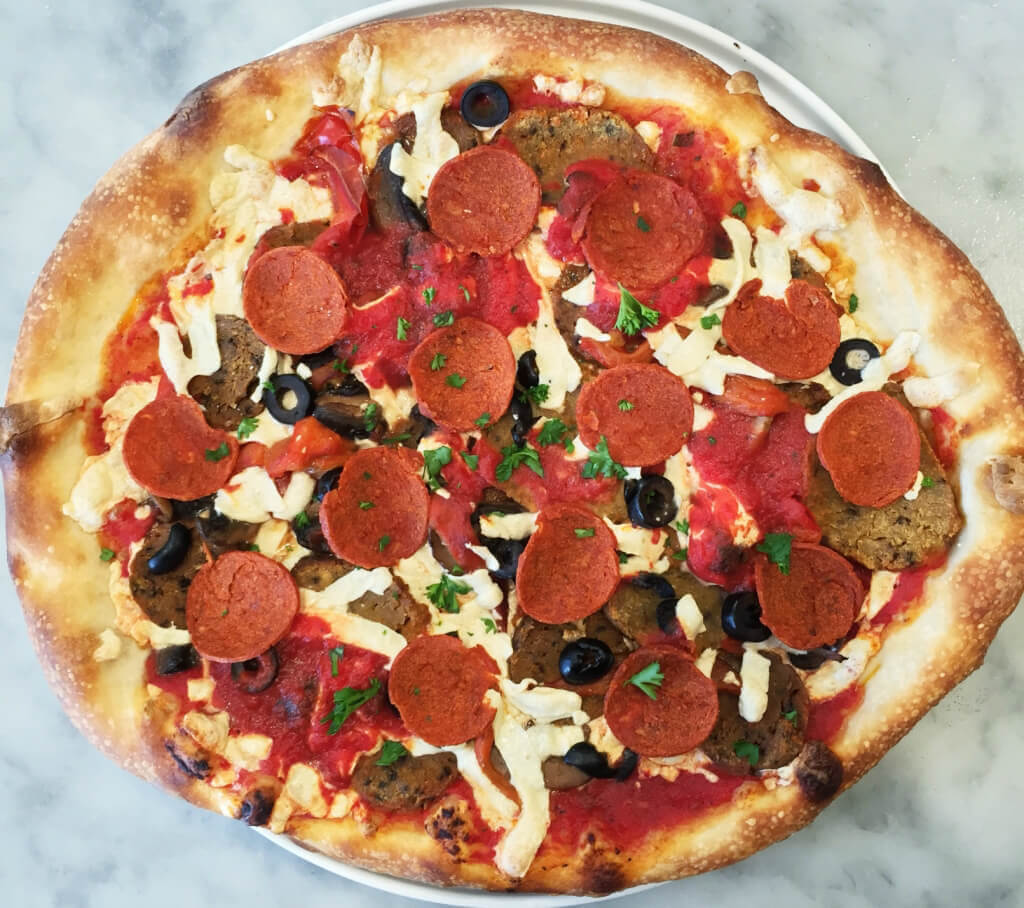 With dozens of vegan options, including tofu scramble, falafel wraps, a grilled cheese sandwich, and more, this Portland, Maine, eatery won our hearts. The pizza that stood out for us is the Sweet Potato of Mine, which is the perfect mix of savory and sweet with the following ingredients: sweet potato, spinach, roasted garlic, dried rosemary, caramelized onions, balsamic glaze, and toasted almonds.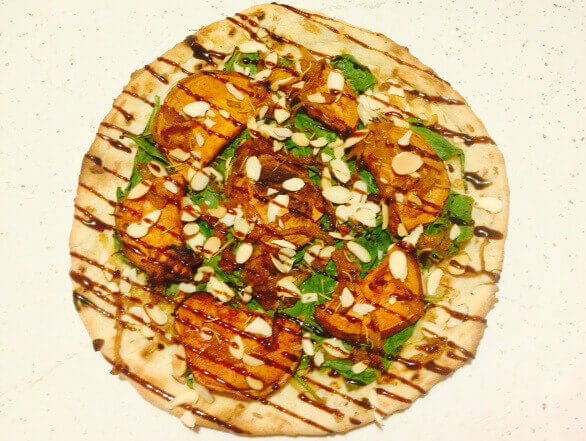 Angela Smith
With two locations in Chicago, Dimo's was a huge hit for us. The vegan version of The Mac impressed us with mozzarella Teese, house-made vegan ranch, macaroni noodles, and cheddar Teese on top. And don't leave until you try the other vegan options, such as the Chorizo Nacho Pizza, the Vegan Dimo Florentine Pizza, the vegan dessert, and more.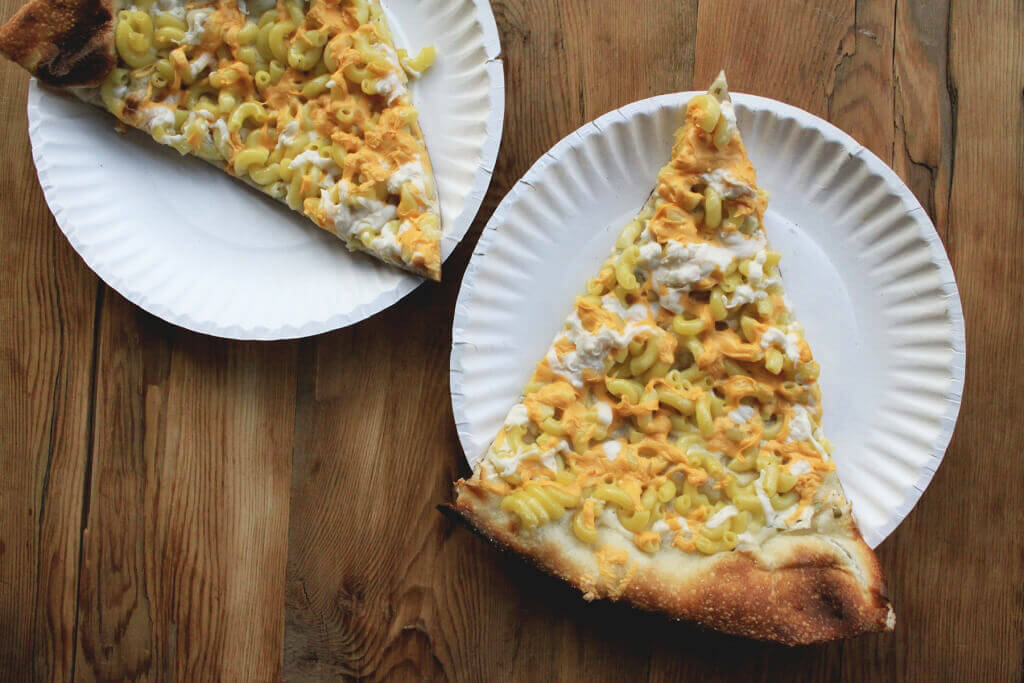 Ann Wanserski/Dimos Pizza
Located in Grand Rapids, Michigan, Brick Road Pizza dazzled us with an entire menu of vegan pizzas. The Loaded Potato Pizza reminded us of going to our favorite diner and ordering a baked potato with all the fixins: tempeh bacon bits, vegan cheddar, sour cream, and scallions. Drool.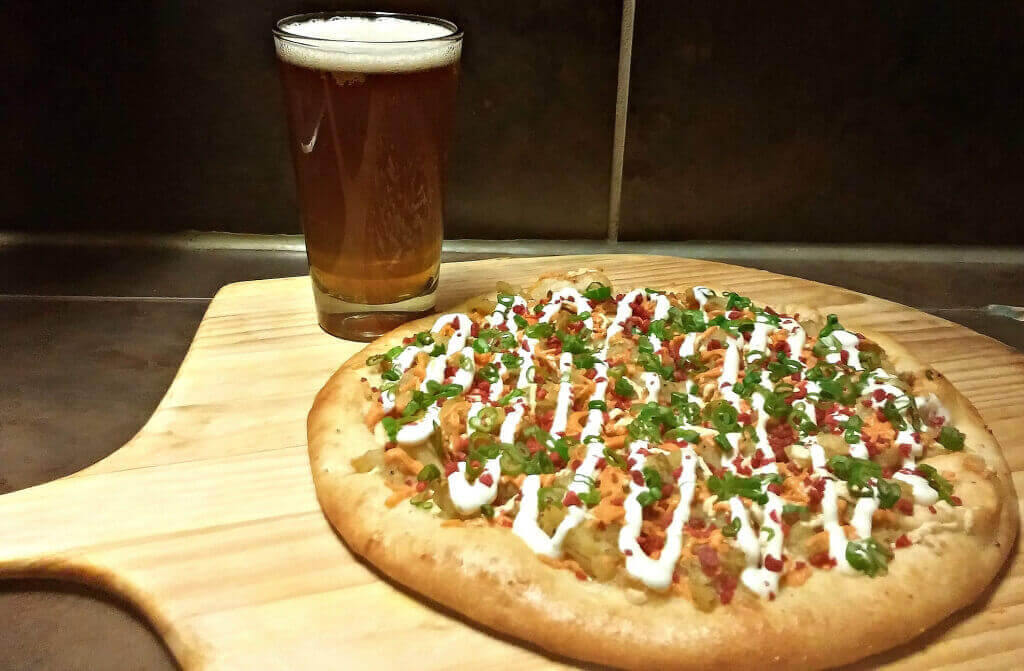 Although Los Angeles is no stranger to vegan pizza, we tried finding something a bit out of the ordinary and were blown away by this fusion of two cuisines that is the Banh Mi Pizza. Italy meets Vietnam in the way that only L.A. can blend cultural flavors, with marinated tofu, pickled carrot and daikon, herb salad, jalapeño, and a creamy sriracha aioli. Other vegan highlights include the Buffalo-Style Cauliflower, a soup of the day that is always vegan, the better-than-fish-and-chips Avo & Chips, and a warm chocolate-chip cookie in a cast-iron skillet for dessert, just to name a few.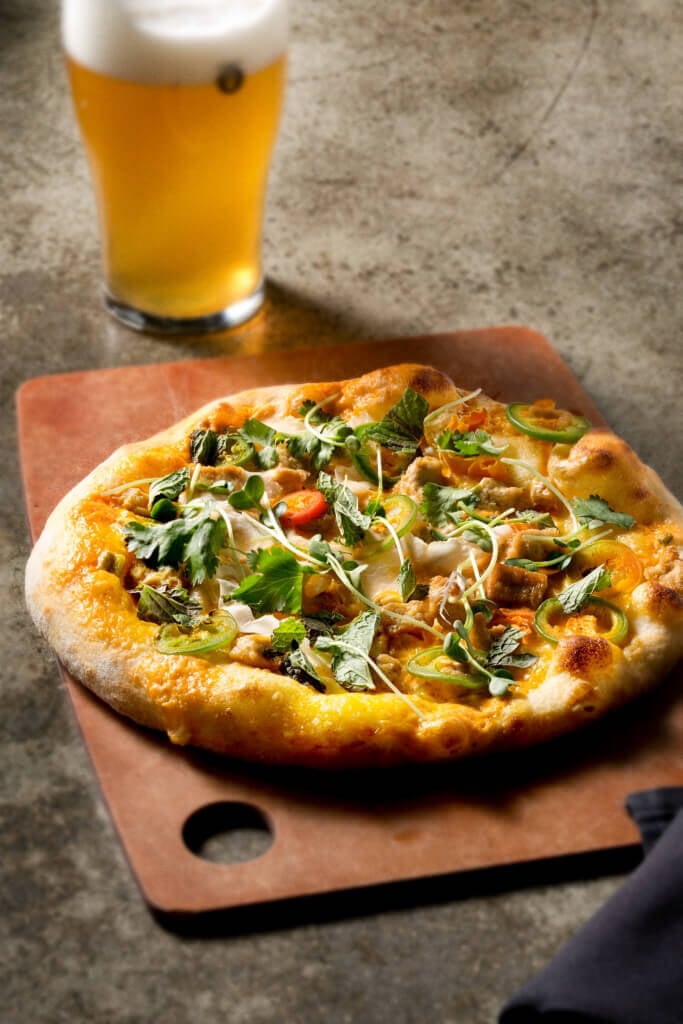 Yet another place that has no shortage of anything vegan, our Portland, Oregon, pick Sizzle Pie made waves with its Spiral Tap pizza. Consisting of a creamy caramelized onion spread, house marinara sauce, and a light dusting of nutritional yeast, this pizza will give vegans their daily dose of B12 and, unfortunately, no room for the nine other vegan pizza options available here. You'll have to come back and try those.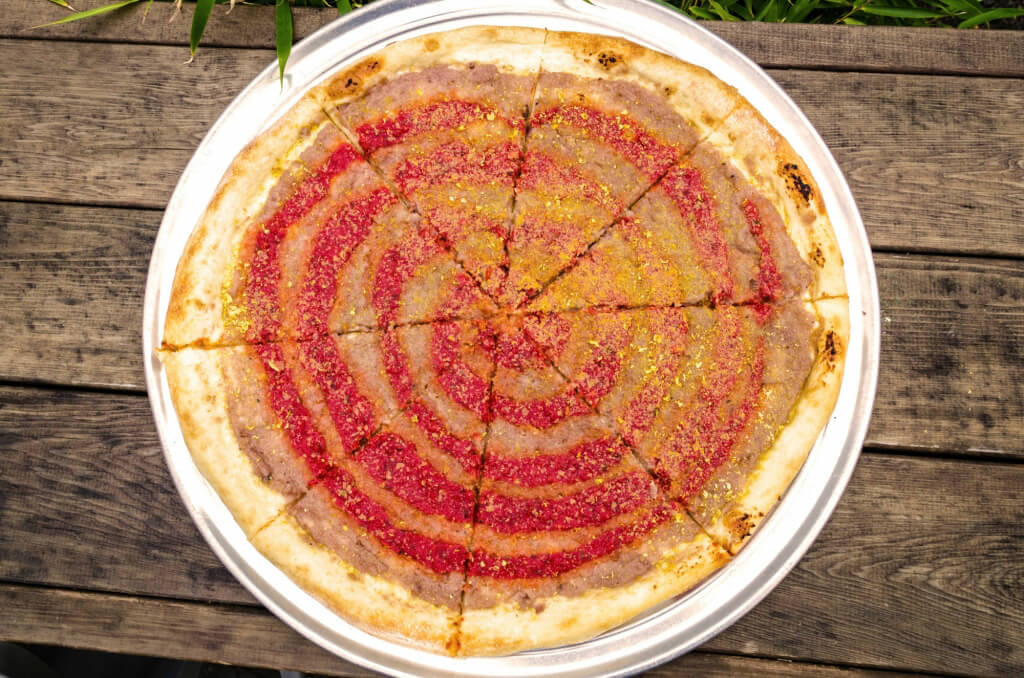 It's not Texas, it's not Mexico, and it's not even Kansas, as the name might suggest, but Waldo Pizza in Kansas City, Missouri, blends unique flavors in its Vegan Tex Mex Pizza. The ingredients sounds more like a bowl of nachos than pizza toppings, but they definitely don't disappoint. Along with the typical elements (taco sauce, onions, black olives, roasted corn, lettuce, and Roma tomatoes), guests get a choice of vegan mozzarella or Daiya Italian cheese as well as vegan taco meat or vegan hamburger. Olé!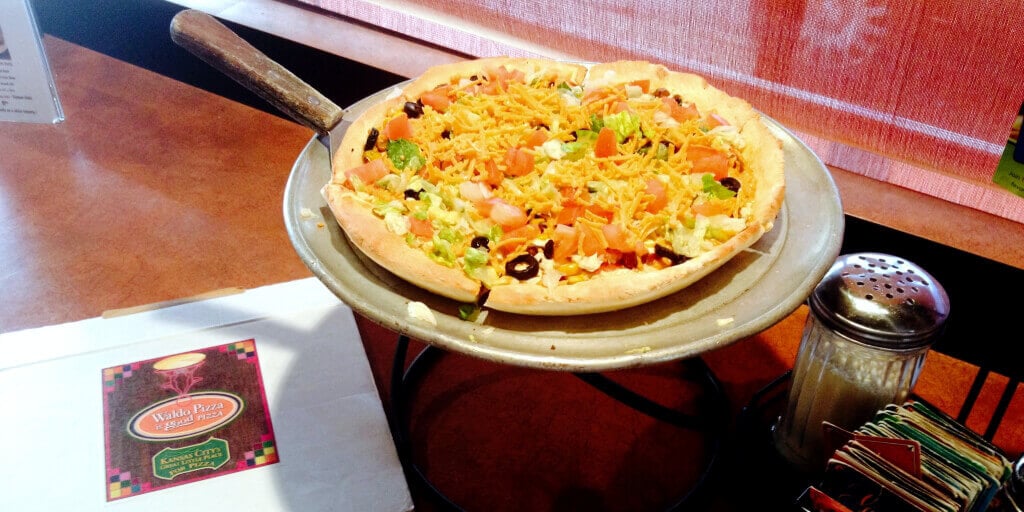 Rhode Island may be the smallest U.S. state, but this Providence eatery proves that size doesn't matter when it comes to taste. Another gem with an entire vegan menu, Nice Slice offers a vegan version of its specialty pizza: the Figgy Stardust. You may have guessed the star ingredient in this pie: figs! Arugula, vegan cheese, and extra virgin olive oil make excellent co-stars for this refreshing, warm, and fruity pizza.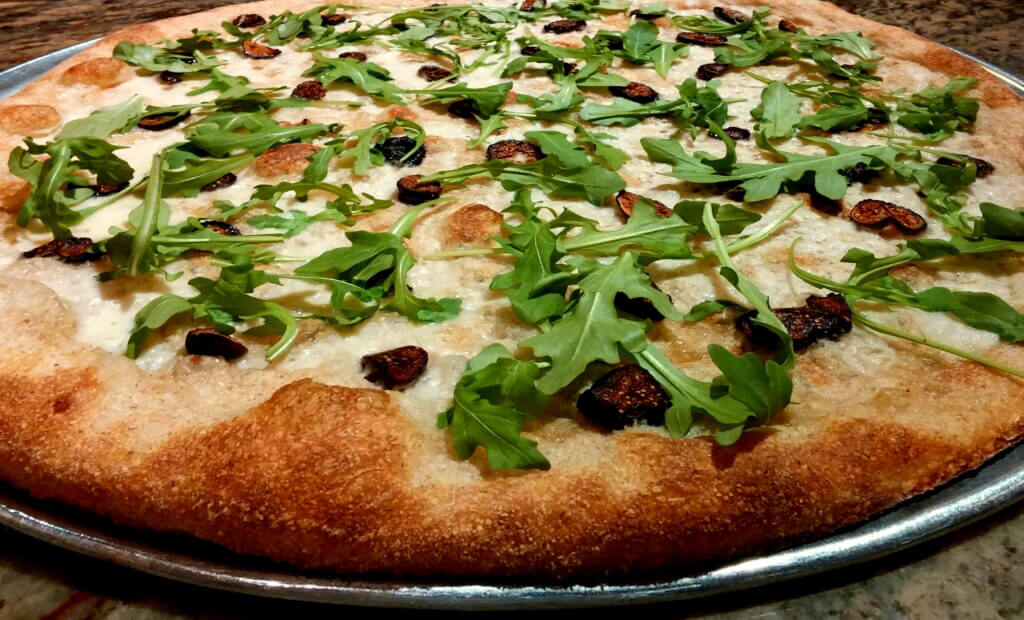 Lucky Flagstaff, Arizona, residents or visitors won't have any trouble finding excellent vegan pizza, thanks to the New Jersey Pizza Company's Veggie 2012 Pizza, which includes spinach, bell peppers, onions, mushrooms, pineapples, fresh garlic, black olives, and basil.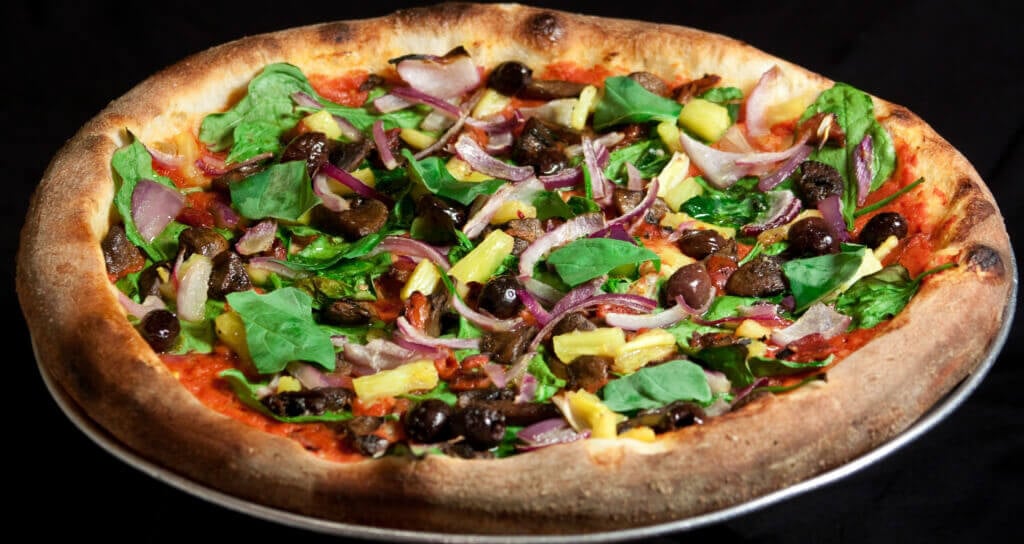 Andrew Baker
If you're not in any of the cities mentioned above, don't fret! Pizza chains across the nation are offering vegan options more and more. Mellow Mushroom now has a vegan menu that includes tofu, tempeh, and vegan cheese; Pieology just expanded its vegan-cheese option to more than two dozen locations; and PizzaRev is adding vegan sausage at many locations to go along with its vegan cheese.
Congratulations to all these establishments and every pizza place that offers vegan options for providing delicious cruelty-free dining for your customers.
Respond