Biscotti Bliss!
The following article was written by Keegan Baur.
Who doesn't love a good biscotti cookie? As cold weather sets in, we're all more inclined to reach for hot beverages, and biscotti are the perfect cookies to savor with a steamy cup of tea, coffee, or hot chocolate. I recently made a batch of these scrumptious, twice-baked treats, and they totally hit the spot. I have a feeling that in the next month or two, I'll be experimenting with a few different batches of biscotti, including a peppermint variety!
Here's what I was munching on last weekend: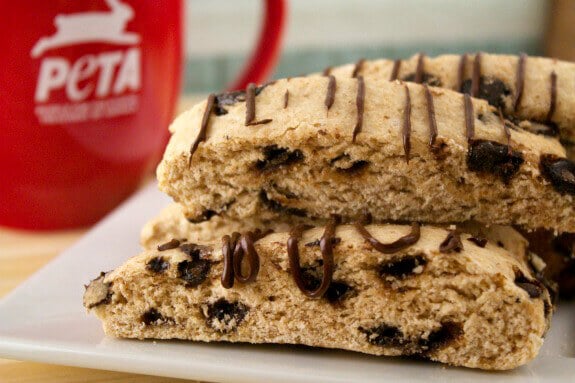 Almond Chocolate-Chip Biscotti
3 cups all-purpose flour or whole wheat pastry flour, or 1 1/2 cups each
1 Tbsp. baking powder
1/2 tsp. salt
1 cup sugar
3/4 cup applesauce
1 Tbsp. vegetable oil
1 tsp. vanilla extract
1 1/4 tsp. almond extract
3/4 cup vegan chocolate chips
Additional chocolate for drizzling, optional
Preheat the oven to 325°F.
Lightly oil two cookie sheets.
In a large bowl, whisk together the flour, baking powder, and salt.
In a medium bowl, whisk together the sugar, applesauce, oil, and extracts.
Stir the wet ingredients into the dry. As a firm dough starts to form, knead in the chocolate chips with your hands.
Divide the dough into two pieces.
With a lightly floured rolling pin, roll one half into an 11- by 3 1/2-inch-long rectangular "log", about 3/4 inches thick, and place it on a cookie sheet. Repeat with the other half.
Bake for about 25 minutes.
Remove the pans and reduce the heat to 300°F.
On a cooling rack, let the logs sit for 20 minutes, until very firm.
On a cutting board, cut the logs into 1/2-inch-wide slices. Use a large, sharp knife (one without a serrated edge) and push the blade down in one firm motion. No sawing, please—that will break the biscotti!
Place the slices back on the cookie sheets, cut side down.
Bake for 5 to 10 minutes, or until golden brown on the bottom.
Turn the slices over and bake for another 5 to 10 minutes, or until golden brown on the bottom.
Remove the cookie sheets from the oven and let the biscotti cool for a few minutes before transferring to a cooling rack. Once completely cooled, you can drizzle melted chocolate on top. (Let the chocolate set before serving.)
Store in an airtight container. These cookies should store for up to two weeks—but I can't imagine anyone letting them last that long!
Makes approximately 30 cookies
What kind of biscotti is your favorite, and which steaming-hot beverage do you like to pair it with?
Related Posts
Respond
In This Section