Jack Black: The Very Best in Cruelty-Free Grooming Products For Men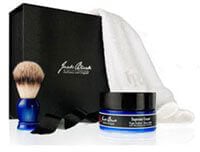 It's no wonder that magazines like Esquire and Men's Health can't stop raving about Jack Black. Offering the very best in cruelty-free grooming products, Jack Black's brushes and shaving lathers are guaranteed to banish beard stubble and leave skin looking and feeling great. Featuring a wide range of skin and hair-care items for men and women, all of the company's products—which are available at Nordstrom, Saks Fifth Avenue, and Bloomingdale's—are made from the finest natural ingredients.
On top of that, nothing Jack Black sells is tested on animals, and the vast majority of its products do not contain any animal-derived ingredients. The company went to great lengths to develop a vegan shaving brush—which says a lot, considering that most of the shaving brushes on the market today are created using badger hair.
Jack Black recently introduced its Pure Performance Shave Brush—a first-of-its-kind synthetic badger-hair brush that offers exceptional performance without harming animals. Combined with Jack Black's luxurious Supreme Cream™ Triple Cushion™ Shave Lather With Macadamia Nut Oil & Soy and Post Shave Cooling Gel With Aloe, Sage, and Lavender, there's no better way to get a shave that's barber-shop close and completely badger-free!
To learn more about cosmetics testing on animals, go here.
Respond