What's in Your Hot Dog?
|
Ever wonder what goes into a hot dog? The answer may make you think twice about biting into another ballpark frank.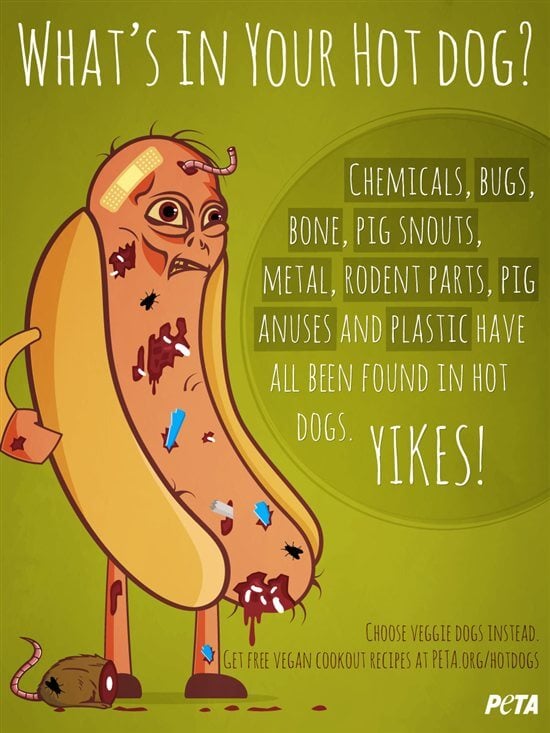 Want Cancer With That?
Hot dogs contain nitrates and nitrites because they preserve the reddish hue of animal flesh, but multiple studies have linked these preservatives to cancer. Even hot dogs marked "organic" or "natural" contain these carcinogenic chemicals. Hot dogs also often contain another suspected carcinogen: dioxin.
Tastes Like … Fear
When animals suffer from prolonged stress during transport and slaughter, the result is dark, firm, and dry meat. It's way too unappetizing to sell as is, but grind it up and hide it among other animal bits, such as pig snouts, cow lips, and goat gullets, and voila! Frankfearters.
Mmmm … Bugs
The extra "ingredients" that have shown up in hot dogs include worms, maggots, rodent parts, glass shards, a lock washer, and a Band-Aid. One person even reported finding an intact dragonfly in one.
Put Your Dog on a Diet
Hot dogs are also loaded with fat: Oscar Mayer Classic Beef Franks have 13 grams of fat—5 of which are saturated—and only 5 grams of protein. By contrast, vegan Lightlife Smart Dogs have only 2 grams of fat—0 of which are saturated—and actually contain more protein (7 grams) than a beef hot dog.
What You Can Do
Share this image with friends and family on Facebook and Twitter. And the next time someone offers you a hot dog, say, "No, frank you."  
Related Posts
Respond
Comments
If your comment doesn't appear right away, please be patient as it may take some time to publish or may require moderation.
By submitting this form, you are agreeing to our collection, storage, use, and disclosure of your personal info in accordance with our privacy policy as well as to receiving e-mails from us.