Save the Duck's Revolutionary Plumtech™ Outperforms Down
Written by
January 13, 2016
|
PETA is presenting its Innovator for Animals Award to Save the Duck—an outerwear company whose jackets are available at major fashion retailers such as Saks Fifth Avenue, Barneys New York, and Nordstrom—for using a revolutionary new Plumtech™ technology that is animal-friendly and outperforms down. Save the Duck joins The North Face, which previously won an award for its down-free ThermoBall™ technology.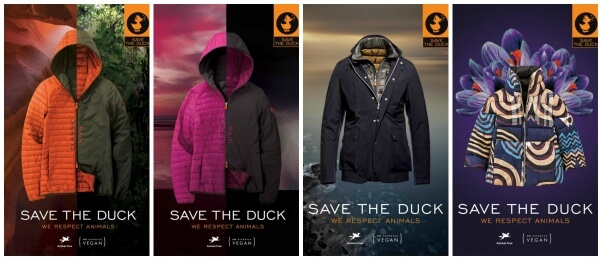 Plumtech™, a synthetic down made from recycled polyester, provides outdoor enthusiasts and trendsetters alike with outerwear that allows easy movement and is durable, light, packable, and machine-washable. And thanks to its high-density fibers, Plumtech™ features the soft texture and compressibility of down, along with thermal insulation.
The use of Plumtech™ and other synthetic-down technology reflects the current industry trend away from down, which is typically obtained from birds who are pinned down and have their feathers ripped out while they're still alive, birds who are force-fed for foie gras, or ducks and geese who are slaughtered for food, often while fully conscious and able to feel pain.
PETA has sent Save the Duck a framed certificate and a letter of appreciation for providing people with warm, stylish outwear that doesn't involve animal suffering.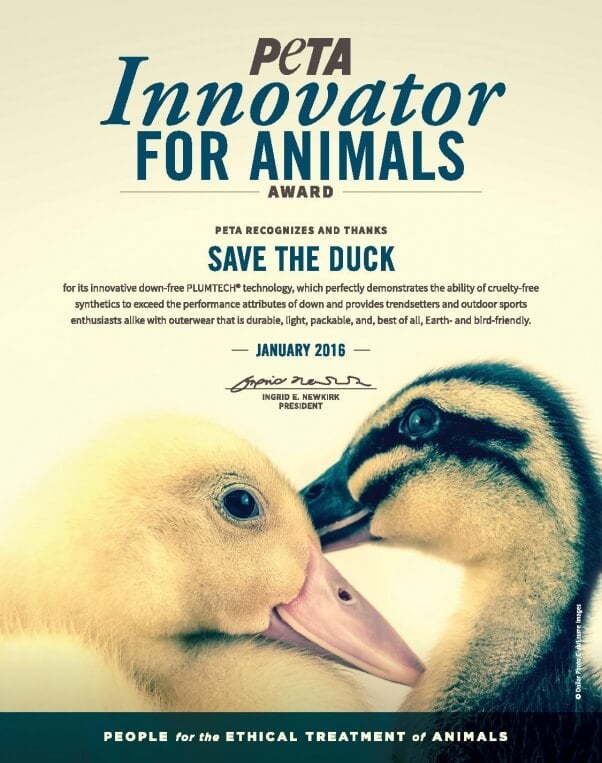 Duck photo © Dollar Photo Club/Ezume Images
We've already prompted outdoor outfitter Coleman and other retailers to use high-tech synthetics such as Thinsulate, Climashield, and PrimaLoft.
What You Can Do
Support Save the Duck and other companies that offer animal-friendly fashions. Wearing vegan has never been easier.
Respond