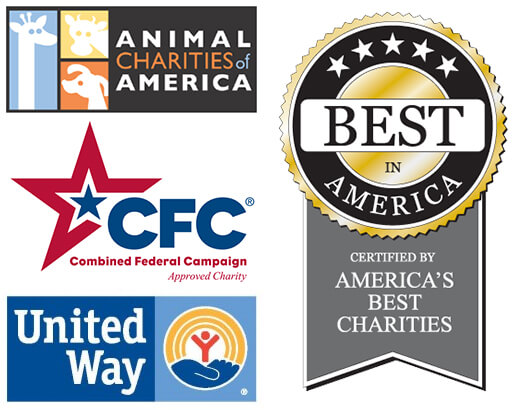 Workplace gifts provide vital support for PETA's unique lifesaving work. And they are very easy to make.
If you are a federal employee, you can participate in the annual Combined Federal Campaign (CFC), which runs from September 1, 2022 through January 14, 2023. PETA can easily be located in the Animal Charities of America section in your CFC materials. (CFC#11651)
If you are a state government employee, you may be able to select PETA in your annual government-employee campaign. PETA can be selected by state government employees in California, Connecticut, Illinois, Maryland, Massachusetts, Michigan, Missouri, Montana, New Jersey, New York, North Carolina, Ohio, Pennsylvania, Rhode Island, Utah, Virginia, Washington, and Wisconsin.
If you participate in a United Way giving campaign that allows donor designations, you may be able to select PETA as the beneficiary of your United Way gifts. If PETA is not listed as a member agency, please contact the campaign coordinator to see if you can write PETA in to be considered for your gift. If you are able to write PETA in as your choice, please use our complete, spelled-out name (People for the Ethical Treatment of Animals) and provide the following information: PETA's address (501 Front St., Norfolk, VA 23510) and federal tax-identification number (52-1218336). Since procedures vary with each local or regional campaign, please verify that you have completed your designation correctly.
If you are an employee of a company that conducts its own employee workplace-giving fund drive, you may be able to double or even triple the impact of your gift. In order to encourage charitable giving, companies will often match your contribution—thereby doubling your gift for animals. Some will even "double-match" your donations in order to triple the impact of your original donation. Please check with the human resources director of your company to make sure that PETA is included in your company's campaign. If PETA is not included, please request an application for PETA or call the number below so that we can apply to be included in your campaign.
Please go to PETA's victory page for more stories that will inspire you to give through your workplace in support of PETA's work for animals. And if you have any questions, please contact Membership Services at 757-213-8731 or by email.
Again, thank you for your support!