Published by .
If you're in college or live in a studio apartment with no oven or frying pan in sight, or if you're like me—just really lazy when it comes to cooking—your problems are over! Order PETA's Vegan College Cookbook, and you'll have tasty, budget-friendly, and microwavable vegan recipes in the palm of your hand.
Check it out:
Butt-Ugly Sticky Buns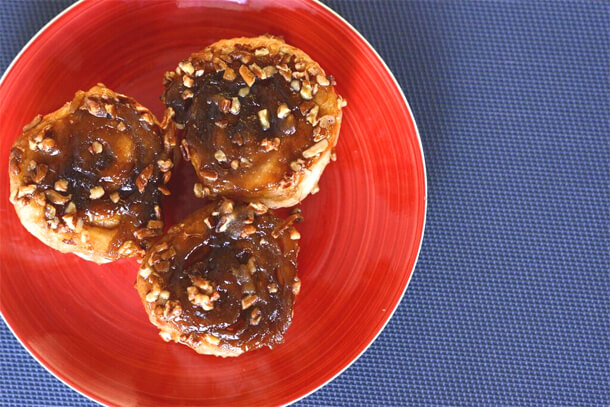 Ingredients:
1/3 cup firmly packed dark brown sugar
3 Tbsp. vegan margarine
1 Tbsp. water 1/3 cup chopped nuts (optional)
1 8-oz. can refrigerated vegan biscuits
Directions:
Combine the brown sugar, vegan margarine, and water in an 8-inch round microwave-safe dish.
Nuke in the microwave for 2 minutes, or until the margarine melts. Stir and spread the mixture evenly across the bottom of the dish.
Sprinkle with the chopped nuts, then place the biscuits on top.
Nuke in the microwave for 4 to 5 minutes, or until the biscuits are firm and no longer doughy.
Let stand for 2 minutes, then dump the buns out upside down onto a plate.
Makes 8 servings
One-Bite Pizzas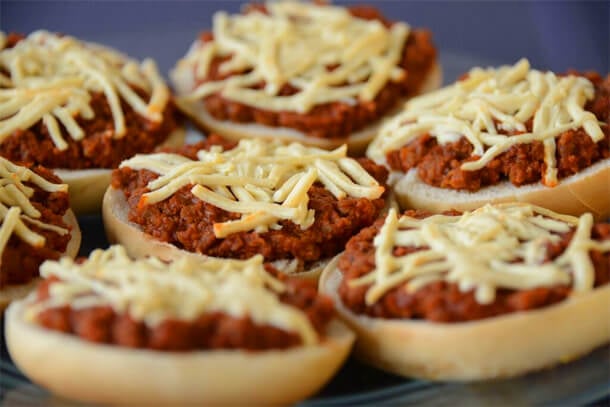 Ingredients:
1 12-oz. bag vegan beefy crumbles
1 14-oz. jar pizza sauce
1 bag mini-bagels, halved and toasted
1 cup shredded vegan mozzarella cheese
Directions:
Put the vegan crumbles in a microwave-safe bowl and nuke in the microwave for 2 to 3 minutes, or until warm.
Stir in the pizza sauce and place a spoonful of the mixture on each of the half-bagels.
Top with the vegan cheese and nuke in the microwave for 1 minute, or until the "cheese" is melted.
Makes 6 servings 
'Pimp My Ramen' Noodles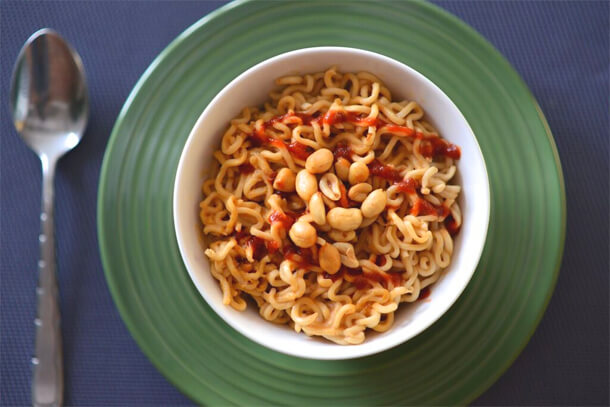 Ingredients:
1 pkg. vegan ramen noodles
1 heaping Tbsp. peanut butter
1 Tbsp. Sriracha 1 handful bean sprouts (optional)
1 Tbsp. crushed peanuts (optional)
Directions:
Crush the ramen noodles and place in a large microwave-safe bowl. Cover with water and stir in the seasoning packet. Nuke in the microwave for 4 minutes, then drain.
Stir in the peanut butter and Sriracha.
Top with bean sprouts and crushed peanuts, if desired.
Makes 1 serving 
PBR Crispy Treats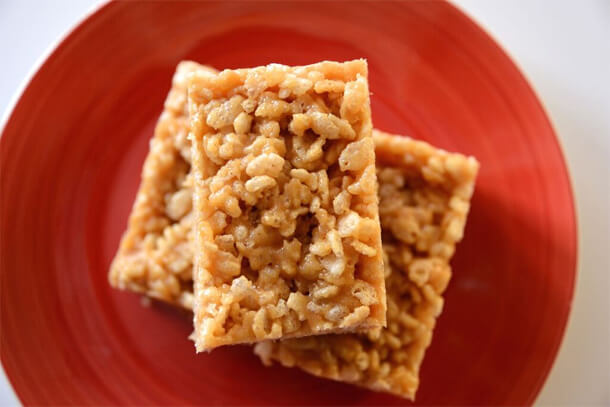 Ingredients:
1 cup light corn syrup
1 cup smooth peanut butter
1 cup sugar
6 cups puffed rice cereal
Directions:
Grease a 9-inch-by-13-inch pan with vegetable oil.
Mix the corn syrup, peanut butter, and sugar together in a large microwave-safe bowl.
Heat in the microwave for 30 seconds and stir. Repeat until the sugar completely dissolves.
Sir in the cereal, then spread in the pan and chill until firm.
Cut into 12 squares. Enjoy!
Makes 12 servings
Get 271 MORE easy vegan recipes!
These four recipes are just a sneak peek at what's included in PETA's Vegan College Cookbook. You can order this super-affordable book and get over 250 easy, cheap, and delicious recipes that require little to no cooking—including these tasty AF deviled potatoes: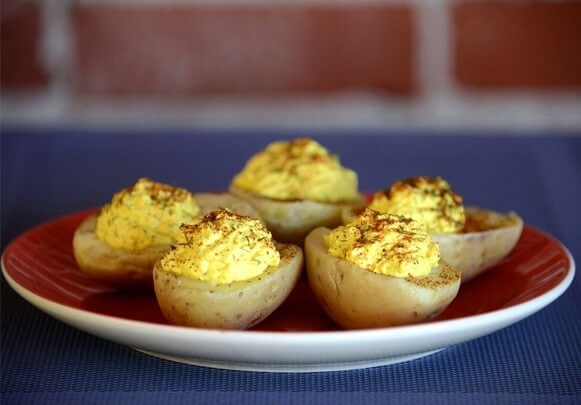 … and this Exclamation Point Eggless Salad!
PETA's Vegan College Cookbook also contains all the best insider tips and info, including the following:
Tons of vegan alternatives to meat, eggs, and cow's milk
How to stock your kitchen and mini-fridge
How to make meat-free sandwiches, salads, soups, and sauces
The best vegan drinks, dips, and dressings
Luscious cruelty-free dessert recipes
Plus tons more!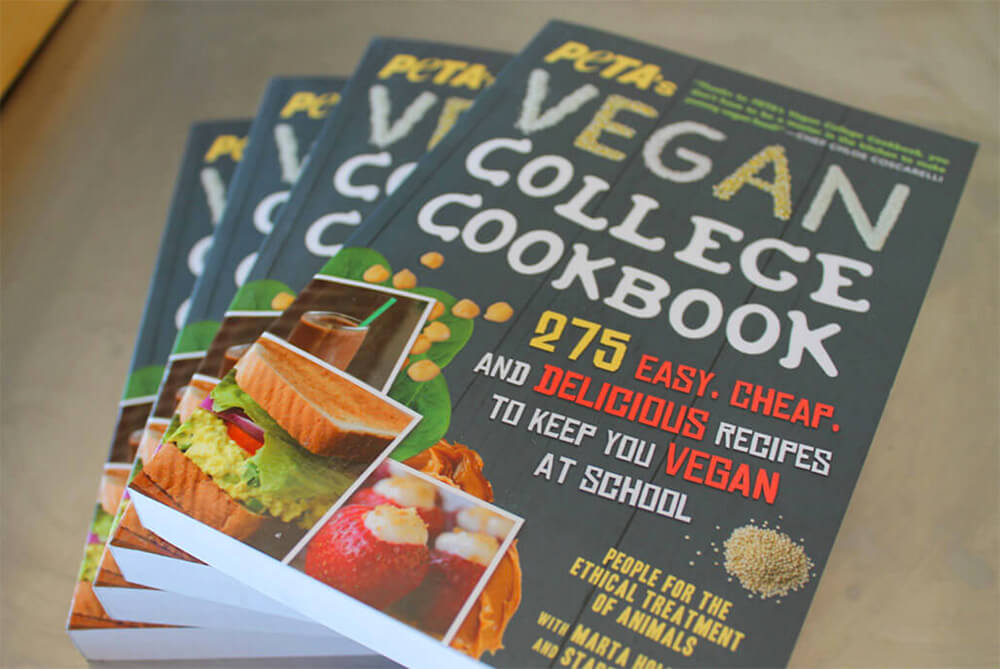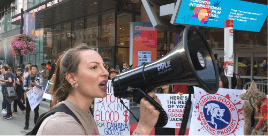 How to Organize Your Own Protest
Are you a student who wants to make a direct change for animals? Take it to the streets by holding a protest! We will help you every step of the way.