Published by .
Is this about an animal in danger? Please report cruelty to animals here. 
So you spend a good chunk of your time and energy speaking up for animals who desperately need your voice. Real talk: We think you're a HERO for that, but we know that sometimes it can be tough if you don't have a great support system or if you're in an abusive or stressful situation.
We care about you—and the work you do to help animals. If you're having self-harming or suicidal thoughts, we want you to get help. Please know that you're not alone and that you will get through this. Whether it's for yourself or a friend, please check out the following resources for help.
If there's an immediate threat to your safety and you're in danger, call 911 (U.S.) or the emergency number for your country.
General Crisis Support
Depression and Suicide
Dating Abuse and Domestic Violence
Domestic and Family Abuse
Runaway, Homeless, and At-Risk Youth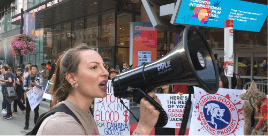 How to Organize Your Own Protest
Are you a student who wants to make a direct change for animals? Take it to the streets by holding a protest! We will help you every step of the way.Organize A Protest