Published by .
Whether you're a freshman heading off to college, a seasoned sophomore, or just someone looking for some trendy tips to spice up your space, look no further. These simple steps will make your dorm room or home as fashionable and compassionate as you are! 
Vegan Food = YUM!
Blood, pus, and dead animal parts? GROSS! Why contribute to cruelty to animals when there's an abundance of delicious vegan versions of animal "products" to fill your fridge with. From meat and dairy "products" to seafood and more, check out these cruelty-free counterparts before you hit the store.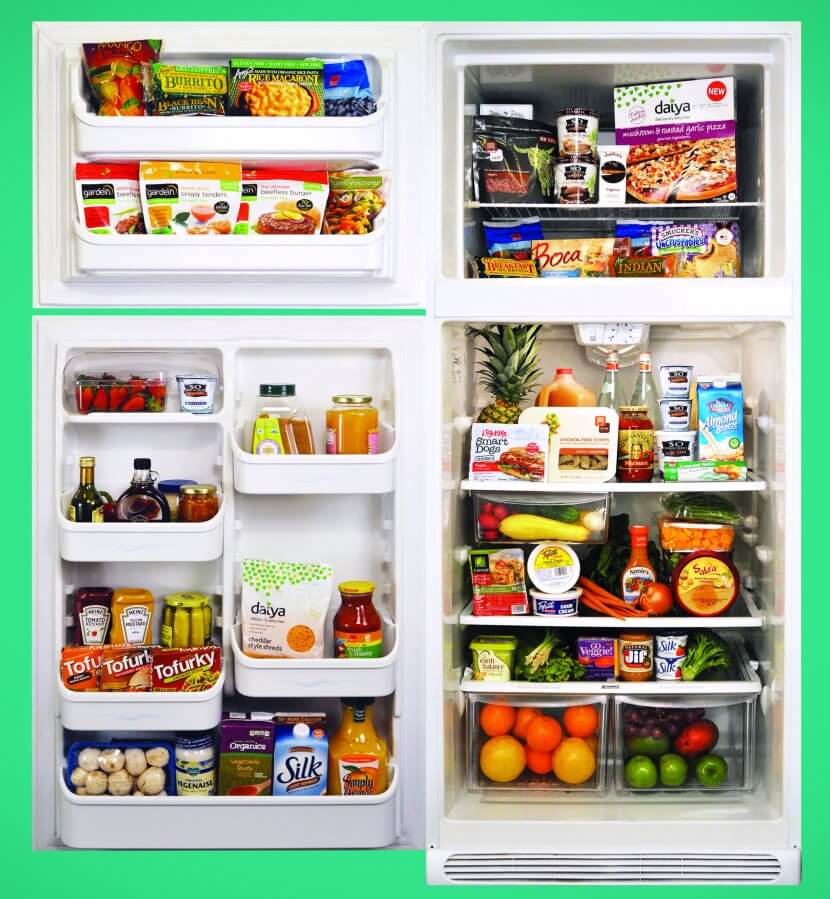 Stock up on some of my favorite dorm-room staples: Cap'n Crunch Peanut Butter Crunch, Clif Bars, Gardein Chick'n Strips, ramen (various brands), Smucker's Uncrustables, and TERRA Real Vegetable Chips.
Looking for some dank vegan recipes? PETA's Vegan College Cookbook has over 270 delish dishes, such as breakfast nachos, deviled potatoes, pancakes in a mug, barbecued tofu, strawberry "cheesecake" bites, and more—all of which can be made without touching an oven or stove. #LazyLife
Flesh-Free Fashion and Furniture
Yes, you read that right—FLESH. Did you know wool, leather, down, fur, and angora all once had a face? The face of a sheep, cow, dog, bird, fox, rabbit, or other animal who was abused, neglected, and exploited.
Some birds used for down are plucked so violently that their skin rips open, and the workers roughly sew up the gaping, bloody wounds with a needle and thread—without any pain relief. Like, seriously, WTF, right? There are so many animal-free options for you to purchase that there's no excuse to support animal abuse.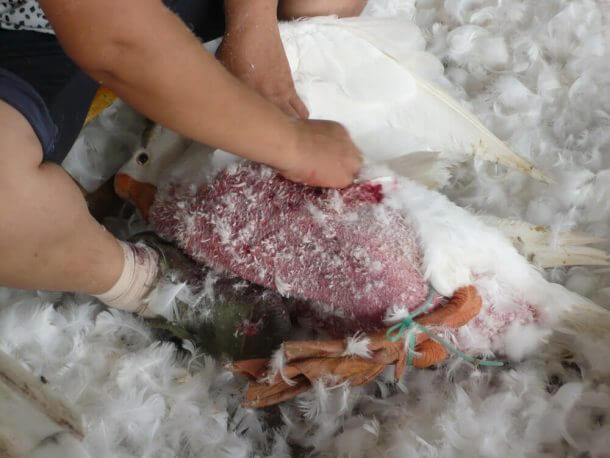 Simply check the label, and if it shows that an item was made from animals—like down, leather, sheepskin, or wool—put it down. Look for cruelty-free materials in furniture and clothing such as cotton, cotton flannel, imitation leather, polyester, polyurethane "man-made" materials, PU, synthetic leather, synthetic shearling, and waxed cotton.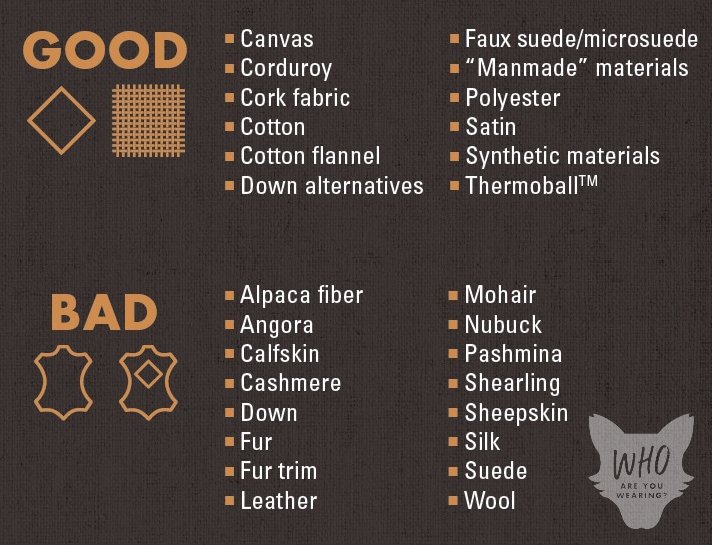 Bloodless Beauty and Bath
Many of us use cosmetics, personal-care, and household products to clean up and feel fresh, but some of them have an ugly, dirty past—a past in which countless animals were tortured in cruel chemical tests. Companies pay for these cruel tests even though there are modern, non-animal methods that are faster and more precise. Pretty dumb, don't ya think?
The good news is that tons of companies refuse to pay for cruel tests on animals. Use your smarts, and get a fresh start: Ditch the cruelty, and discover the world of cruelty-free. Alba Botanica, KVD Beauty, Method, Mrs. Meyer's Clean Day, NYX, Paul Mitchell, Seventh Generation, Urban Decay, and so many other compassionate companies are out there! Search our database for your favorite companies to see if they're cruelty-free.
Decorate Without Dead Bodies
You'd think this would be a no-brainer, but I'm gonna say it again—for the people in the back. DITCH DEAD ANIMAL HEADS. It's weird AF and hella creepy. Faux that—literally! Check out Fauxidermy that you can buy or have fun making yourself.
It's easy to bring your space to life—just leave out the dead animals and animal parts. Freshen up with flowers instead of feathers, and decorate with animal-friendly artwork or super-cute self-care stones. Need more ideas? Check out these design tips.
Adopt, Don't Buy
Millions of unwanted cats and dogs end up in U.S. animal shelters every year, so there's always an animal who needs your help. If you or anyone you know is interested in adding an animal to the family, be sure to adopt from a shelter instead of buying one from a pet store or breeder. Every animal bought is basically a death sentence for one waiting in a shelter. #SpayAndNeuter Help save a life—they're counting on YOU.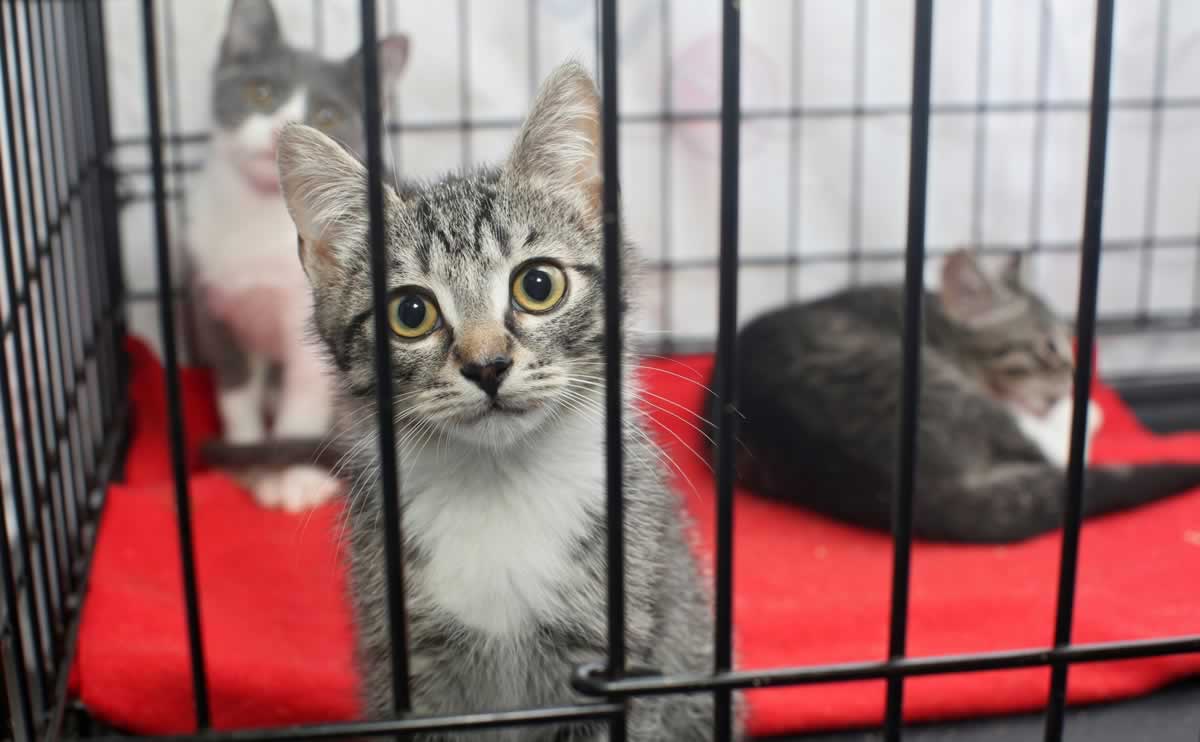 © iStock.com/Okissi68
Although most dorms don't allow companion animals, you can still get your animal fix and make a friend. Contact your local open-admission animal shelter to volunteer your time to walk a dog or cuddle with some cute cats. Don't have time in your busy schedule? Ask your shelter what supplies it needs. Do your part and help give a homeless animal a fresh start!
So what're you waiting for? Get creative without being cruel, and share these simple cruelty-free tips with your friends and family members.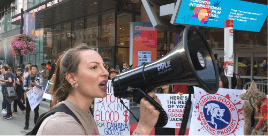 How to Organize Your Own Protest
Are you a student who wants to make a direct change for animals? Take it to the streets by holding a protest! We will help you every step of the way.