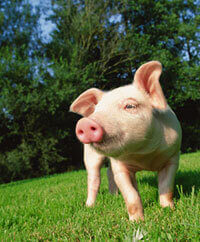 Financial accounts such as checking accounts, savings accounts, and certificates of deposit can be designated as "payable on death" (POD) to PETA, meaning that you, as the owner of the account, name PETA to receive the funds upon your passing. This type of arrangement is also sometimes referred to as a "Totten Trust" or a "Savings Account Trust." Most states also allow stocks, bonds, mutual funds, and other securities to be designated as "transfer on death" (TOD).
Funds from a POD/TOD account pass directly to PETA, avoiding the probate process. Moreover, because you have designated PETA as your beneficiary, the gift will be considered a charitable contribution and will be deductible from your gross estate, thereby reducing your estate's tax liability.
An attractive feature of a POD/TOD account is that it enables you to retain complete control over the funds during your lifetime. And as the account's owner, you may cancel the account or modify your beneficiary designations at any time. By creating a POD/TOD account, you can rest assured that during your lifetime, your resources will be available should you or your family need them, while also knowing that the remaining funds will be used to further PETA's mission of a world without animal suffering.
As always, we suggest that you consult with your independent financial, tax, or legal advisor for specific help with your particular situation, as the above is intended as an introductory outline only and PETA does not provide financial, tax, or legal advice. If you do decide you would like to make PETA a "payable on death" or "transfer on death" beneficiary, simply contact your bank, credit union, or brokerage firm with the following information:
PETA's full legal name: People for the Ethical Treatment of Animals, Inc.
PETA's permanent mailing address: P.O. Box 42516, Washington, DC 20015
PETA's federal tax identification number: 52-1218336