Students Opposing Speciesism (SOS) is a PETA-backed revolt led by young people in cities all over the U.S. and Canada who want to take action to challenge the norm and help end speciesism.
Speciesism is the misguided belief that one species is more important than another. Just as racism, sexism, and other "isms" result in discrimination against other humans based on arbitrary factors like skin color and gender, speciesism assigns an inferior status to those who don't happen to be human.
Each second that passes, animals—who are no different from us in the ways that matter most—face our worst fears: They're taken from their families, caged in isolation, gunned down, raped, skinned alive, and beaten to death. Unseen they suffer, unheard they cry, in agony they linger, in loneliness they die.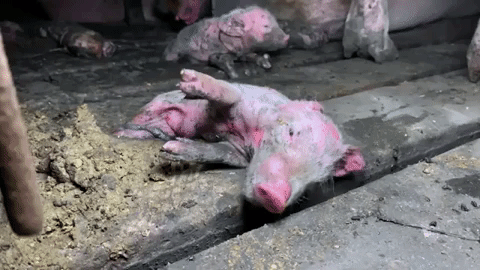 All this takes place because of humans' whims—and it's time we ended it. Animals can't wait another second. The time for animal liberation is now. We can't just sit back and wait for someone else to help them—they need us. SOS!
SOS is made up of 13- to 24-year-olds who live in the U.S. and Canada and share the goal of bringing the social justice issue of animal rights to the forefront of people's minds—and creating real change by influencing others. Young people are holding protests, participating in marches, handing out leaflets, and sharing videos and images online so that everyone in their social network can bear witness to the horrors that animals are forced to endure because of human supremacy. PETA helps young people get loud by doing the following:
Working with students on bold, thought-provoking actions that can be done from home to reach people via social media
Assigning each

SOS

member a personal adviser who will help streamline efforts and be there to answer any questions along the way
Holding online training sessions on various topics, such as the most effective outreach techniques (including protests and other actions), ways of getting media coverage of actions, proficiency at talking to the media, and more
Hosting online events such as Netflix parties to teach

SOS

members about animal-related issues and offering a forum to discuss the information presented while members get to know each other
Providing

SOS

members with leaflets, posters, stickers, and other materials that can be used at protests and outreach events
Fostering a community for

SOS

hub leaders and members around the U.S. and Canada so that they can collaborate to spread the anti-speciesist message
Offering leadership, activism, and volunteer opportunities
Do you know any young people who want to raise their voice, inspire their peers, and be active for animals? Tell them to check out SOS! If you're a 13- to 24-year-old who wants to take action to end speciesism, we encourage you to join an SOS hub, which means you'll be connected with other SOS members in your community to take part in actions. Or you can apply to be a hub leader—leaders are responsible for hosting actions, managing a hub at a local level, managing the hub's Instagram account, and keeping the PETA adviser in the loop.
The future of animal rights is at stake, and with PETA's resources, young people can make a huge difference. The course of history for animals can be changed in the generations to come, and our dream of equality and justice can become a reality. Please join us in this effort today!
Are you older than 24 and want to get active?