The Augustus Club: PETA's Legacy Society
Who Was Augustus?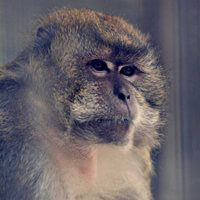 In 1980, we discovered Augustus during an undercover investigation of the Institute for Behavioral Research laboratory in Silver Spring, Md. He was one of 17 macaque monkeys at the facility—most of whom were taken from their jungle homes in the late 1970s and purchased for $200 each by animal experimenter Edward Taub. After PETA exposed the extreme cruelty and neglect that Augustus and the others were suffering at Taub's hands, the police raided the laboratory, and Taub became the first experimenter to be convicted of cruelty to animals.
Augustus and his fellow prisoners became known as the "Silver Spring monkeys"—a group of very special souls whose senseless and tragic plight led to the founding of the modern animal rights movement in the U.S.
During the legal battle that went on for years, PETA succeeded in getting five of the monkeys transferred to indoor/outdoor enclosures at the San Diego Zoo, where they were allowed to live together. However, despite the continued custody battles, most of the monkeys—including Augustus—were killed by experimenters. Augustus was experimented on and killed at the Delta Regional Primate Research Center in July 1990.
The Augustus Club: Giving Animals a Future
With the help of our caring members, PETA works hard every day to ensure that Augustus' death was not in vain.  When PETA first decided to create a legacy society to honor our members who have made a planned gift to PETA, we thought a lot about what its name should be.  Augustus' dignity and noble image make him a fitting symbol for this group of very special souls who, by naming PETA in their last will and testament or as a beneficiary of another planned gift, enable us to protect other animals from suffering the inexcusable cruelty that Augustus endured—and to do so for generations to come. Thank you for your interest in being a part of this special group.
PETA's Augustus Club is a complimentary club honoring those who are leaving a legacy for animals through a planned gift to PETA. There are no fees or charges, and members receive quarterly newsletters containing special features on PETA's history, PETA's impact on animal-abusing industries, and profiles of members and animals they've saved. Augustus Club members also receive invitations to special events throughout the year. Augustus' noble image, dignity, and innocence make him a fitting symbol of the plight of all animals who have endured—and are still enduring—callous and horrible treatment at the hands of humans.
If you have made a planned gift to PETA, please let us know so that we can thank you! If you have not yet left a legacy for animals but would like information on how to do so, please contact us.
In This Section
General PETA Information