Two decades of helping educators teach students to have compassion for animals is reason to party! 2022 marks TeachKind's 20th anniversary, and we're celebrating big, with not one but four vegan food giveaways throughout this special year.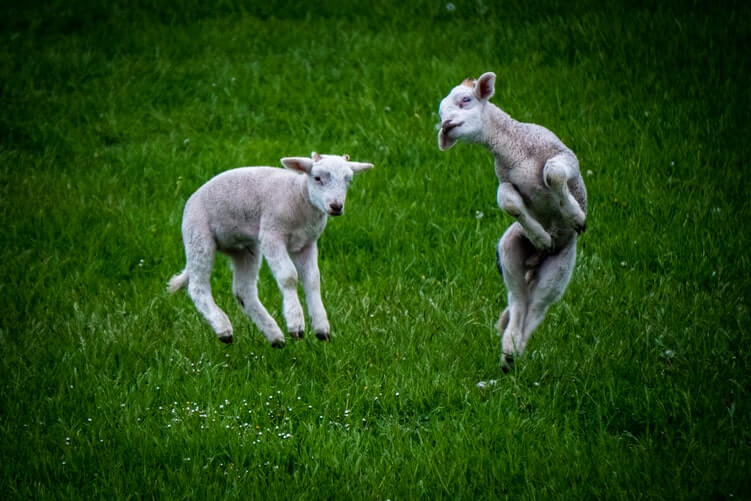 Instilling values like kindness, empathy, and respect for others, including animals, in young people isn't always an easy task—especially during a global pandemic. That's why TeachKind's dedicated team of former classroom teachers has been working hard for the last two decades to provide compassionate educators like you with lessons, virtual presentations, classroom materials, guidance, online resources, and more—all for free. To thank you for raising the next generation to be more compassionate and for never losing sight of our collective goal of inspiring young people to take responsibility for animals' well-being, we invite you and your colleagues to enter for a chance to win some free vegan food for you and your students!
What's Included in TeachKind's 20th Anniversary Giveaways?
Because a party isn't complete without something delicious to eat, the winner of each giveaway will receive their choice of pizza, ice cream, or milk and cookies—all vegan, of course—for their entire class.*
How to Enter TeachKind's 20th Anniversary Giveaways
Simply share with us the fun and creative methods you use to teach your students compassion for animals.
You can do this in one of these ways:
Create a post, using the hashtag #TeachKindTeachers, on Instagram or Facebook—and tag us (@teachkindteachers on Instagram and @teachkind on Facebook). Please ensure that your post is not private or we won't be able to see your entry.
E-mail us at

[email protected]

with the subject line #TeachKindTeachers along with written permission to share your photo(s) and/or video(s) publicly (e.g., on our social media pages).
Using the hashtag #TeachKindTeachers will help us see your entry, so be sure to type it correctly.
To qualify for a giveaway, you must include the following in your entry:
A description of the activity and how it encourages students to have compassion for animals (This can be brief, but the more detail you provide us with, the better.)
At least one clear photo or video depicting the activity
The hashtag #TeachKindTeachers
Here's an example of what an entry on Instagram or Facebook might look like: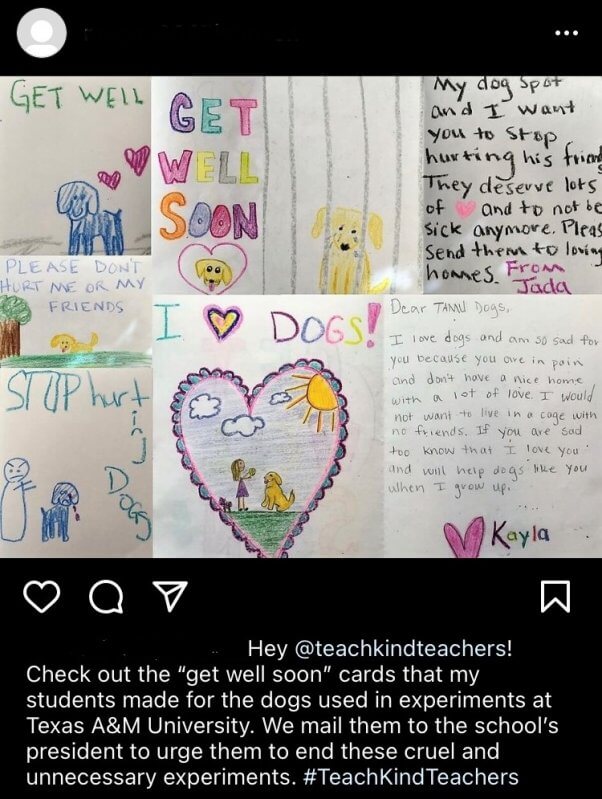 And here's an example of what an entry via e-mail might look like: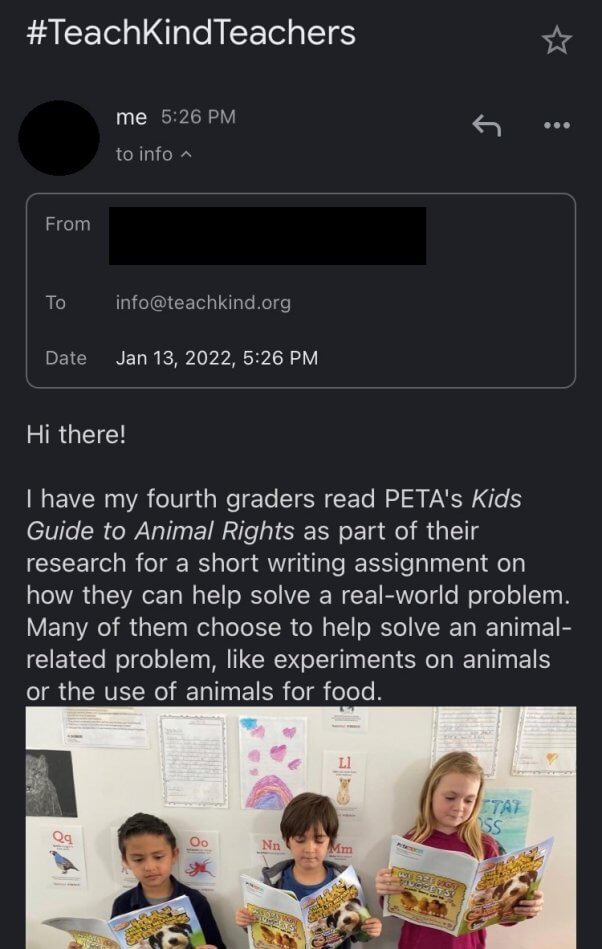 We're interested in hearing about all that you do in the classroom to help animals, so don't be shy! Perhaps you show animal rights documentaries to your students as part of your unit on persuasive arguments. Maybe you rescue insects who make their way into your classroom to model kindness for your students or use digital dissection software instead of once-living animals to teach your students about anatomy. You might be like some of TeachKind's Teachers of the Year, who have students create posters advocating for animals, discuss speciesism and how they can help dismantle this misguided and harmful way of thinking, or make connections between classic works of literature and the animal rights issues featured in them. No matter how you incorporate compassion for animals into your curriculum, now's your chance to toot your own horn—doing so could not only win you and your students some free vegan food but also inspire other teachers to start teaching compassion!
Here are some important dates to keep in mind for these giveaways:
| | |
| --- | --- |
| Entry Period | Date by Which the Winner Will Be Notified |
| Friday, January 14–Friday, March 11 | Friday, March 18 |
| Monday, March 14–Monday, May 9 | Monday, May 16 |
| Monday, August 8–Monday, October 3 | Monday, October 10 |
| Tuesday, October 4–Tuesday, November 29 | Tuesday, December 6 |
Be mindful that just because a lesson or an activity features an animal, that doesn't necessarily mean that it's empathy-building. For example, while having students research elephants and their natural habitats, food sources, and behavior is a perfectly good idea, going a step further and teaching them about the threats that elephants face—such as poaching, habitat destruction caused by animal agriculture, and the use of elephants in circuses—and how they can help these animals promotes compassion. Sharing the latter with us would qualify you for our giveaway!
If you're new to humane education or still unsure whether the activity you'd like to share with us promotes compassion for animals, e-mail us!
If you're interested in entering TeachKind's 20th anniversary giveaways but you aren't yet teaching compassion for animals, don't sweat it—you can start now and submit an entry to let us know how your first compassionate lesson or activity went! Browse our free ready-to-use lessons and activities, order free printed materials, or sign up for TeachKind E-News to have our latest seasonal content and classroom inspiration sent directly to your inbox.
Good luck!
*Contest is in no way sponsored, endorsed or administered by, or associated with Instagram or Facebook. Contest is open to U.S. residents only. No purchase necessary. Void where prohibited by law. The winner will receive their choice of pizza, ice cream, or milk and cookies (all vegan) for their entire class or up to 100 students of their choosing. Entries must be received by 11:59 p.m. ET on March 11, 2022, for the first giveaway; May 9 for the second giveaway; October 3 for the third giveaway, and November 29 for the fourth giveaway. You may submit an unlimited number of entries, but you can win only one of the giveaways once. As an alternative to entering this contest via social media or e-mail, you can fill out this form to submit your entry. Full contest details can be found on the page where the contest was announced. Winners will be chosen randomly and contacted via their chosen mode of entry (Instagram, Facebook, or e-mail) on March 18, May 16, October 10, and December 6, 2022. By submitting your entry, you're acknowledging that you've read and you agree to our contest terms and conditions and our privacy policy and agree to release Instagram and Facebook completely from any claims related to the contest.