Published by .
Have you ever wished you had more vegan options in your cafeteria? You aren't alone. High schools all over the U.S. continue to make the progressive and animal-friendly choice to carry more vegan foods. As a student, your voice is super-important, and every student deserves a healthy lunch.
Getting healthy vegan options added to your cafeteria is often as easy as simply asking, but if that doesn't work, with a little help from PETA, you can learn how to get your campaign started.
For helpful tips, download PETA's "Veganize Your Cafeteria" guide!While you're at it, e-mail 

[email protected]

 to get all the free leaflets, DVDs, and stickers you need to make a change for animals at your school.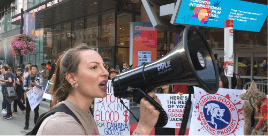 How to Organize Your Own Protest
Are you a student who wants to make a direct change for animals? Take it to the streets by holding a protest! We will help you every step of the way.