Published by .
Are you a compassionate teenager who hopes to reach more people with the animal rights message? Join PETA's youth-led movement, Students Opposing Speciesism (SOS), and we'll help you take your activism to the streets by holding a good old-fashioned protest! Protests are a fun, effective way to get animal rights in the forefront of people's minds by showing them how animals are abused and killed in laboratories, for food, on fur farms, and in circuses. Here are some tips:
The planning stage
Before you get started, check out the SOS website to see if there are existing events in your area that you can participate in. Still want to lead your own protest? No problem! Contact PETA's Student Campaigns Department by e-mailing [email protected] so we can help you plan your event. Please confirm the preferred date, time, and location of your protest so that we can begin working together and get you the supplies you need. Keep in mind that we need at least two weeks' notice to hook you up with free posters and leaflets.
The best time for a demo is when there's heavy foot traffic—think lunch- or dinnertime. Typically, protests last about an hour. A Saturday between 10 a.m. and 2 p.m. is a good time, since that's when many people are out and about—it's the freakin' weekend!
Most public sidewalks are fair game, but some cities require that you obtain a permit. Call your local police department and ask if you need one to organize a peaceful demonstration. We promise this call won't be as scary as it might sound.
The more folks who attend, the better—so invite others to join by creating a Facebook event and promoting the protest on Instagram, Discord, and other social media platforms. Follow SOS on Instagram (@petaxsos) to see other students in action and stay up to date on animal rights campaigns.
Shortly before the demo
Be sure to arrive at least 15 minutes before the event. Dress to impress by wearing your favorite animal rights shirt and other clean clothes, and don't hide your face at the demo—keep those sunglasses off! Read up on the issue you're protesting ahead of time so you have three facts ready to share. If you aren't sure which issue to tackle first, we can help you create your own campaign to end speciesism.
During the demo
Make sure that everyone is holding their signs so that they can be read easily (and aren't hiding their faces), and ask people to refrain from talking on the phone or texting. Have the majority of your group hold signs and wave at cars, but also have some leaflets to hand out to people who are passing by. Make sure at least one person is assigned to take photos and videos during the demo so you can show off your hard work and spread your message even further on social media.
Interacting with people (keep your cool)
Remember to smile and be polite. You'll change more people's minds by being respectful and engaging in conversation than by yelling or intimidating them. If the police show up, calmly tell them that you have a permit or explain that you were told you didn't need one when you called.
After the demo
Remember to collect all your materials so there isn't any litter left lying around, and get everyone's contact information so you can send them pictures from the demo and let them know about future events—and then thank everyone for attending your demonstration. Post your photos and videos on Instagram, and tag @petaxsos so we can share your activism and amplify your voice! If there are any vegan restaurants or food trucks nearby, ask if anyone wants to grab a bite to eat together to reward yourselves for speaking up for animals.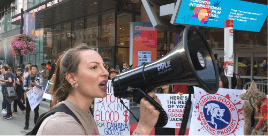 How to Organize Your Own Protest
Are you a student who wants to make a direct change for animals? Take it to the streets by holding a protest! We will help you every step of the way.