Published by .
We're not in the 1950s anymore, y'all. It's unlikely that you're being forced to eat unseasoned steamed Brussels sprouts these days—and even if you happen to be a vegan who hates vegetables, it's easier than ever to rack up servings of them without dealing with unsatisfying tastes and textures, thanks to vegan products like the ones on this list.
Farmwise recently released a collection of frozen foods that are packed with hidden veggies! Vegetable haters, check your local Target for these bad boys—here are just a few of the company's items to add to your grocery list:
OK—mushrooms aren't vegetables (they're fungi), but they're packed with healthy nutrients. Here's a jerky to taste:
For a healthier snack, swap out corn tortilla chips for ones made with cauliflower:
Butternut squash pretzels are the pretzels we never knew we needed:
In our opinion, cheddar-flavor cauliflower crackers take the cake for best new healthy snack. You won't even feel like you're eating a vegetable:
Sensible Portions BBQ stacked veggie chips are on point:
And these stacked chips are packed with veggies! We stan Vegan Rob's products, fully:
If you haven't also tried the company's variety of puffs, get on it:
These ones have beets in them, y'all:
Beet chips with vegan goat cheese, anyone? These are also made with cassava root:
These plant-based burgers may not give you a serving a veggies by themselves, but did you know the Beyond Burger and Beyond Beef contain pea protein?
Peeled Snacks herb garden pea crisps are flavorful and crunchy, and you might be surprised to know they're vegetable-based:
Lightlife has a ton of hidden-vegetable foods, like these white bean and kale deli slices:
Trader Joes's comes through with cauliflower-based frozen gnocchi:
And of course, its tempura cauliflower has some major healthy-ish take-out vibes:
*****
Everyone should be getting enough servings of vegetables each day—even if you don't enjoy eating them in their usual state. The products above are just a handful of the never-ending number of healthy vegan foods showing up on store shelves on the daily. We're here for you! Now go eat your vegetables. 🍆🌽🌿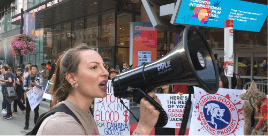 How to Organize Your Own Protest
Are you a student who wants to make a direct change for animals? Take it to the streets by holding a protest! We will help you every step of the way.Organize A Protest