GLOBAL
PETA Supporters See Red Over Bullfighting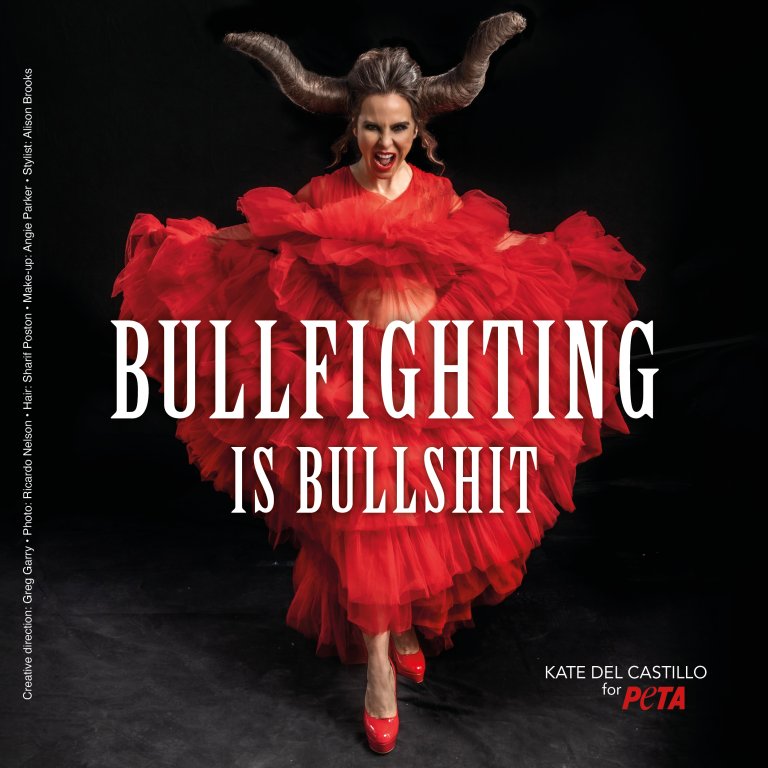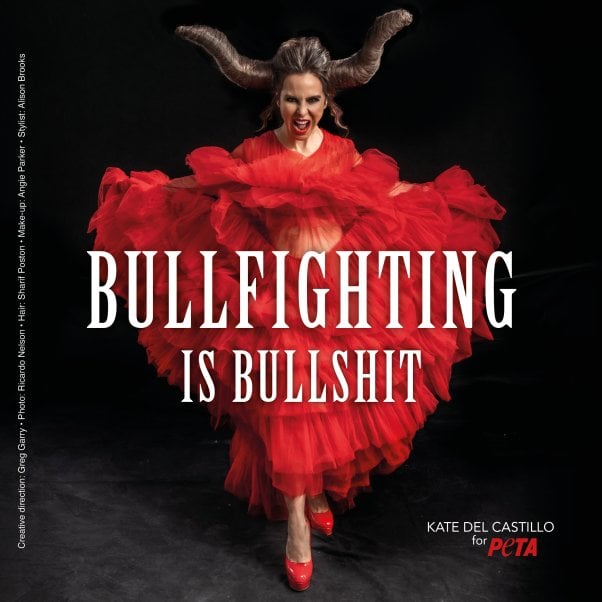 © Creative direction – Greg Garry | Photo – Ricardo Nelson | Hair – Sharif Poston | Make-up – Angie Parker | Stylist – Alison Brooks
It's an animal-stabbing ritual that no one could imagine being done to a dog without a jail sentence for the perpetrators and the spectators alike. PETA UK supporters created a "sea of blood" in Pamplona, Spain (see above), where bulls are forced to scramble down narrow streets before being slowly slaughtered in the bullring. Felicitaciones to travel company On Site Events, which dropped tours to the Running of the Bulls after hearing the facts from PETA UK. And award-winning actor and PETA Honorary Director Kate del Castillo stars in a dramatic new ad about the cruelty involved in bullfighting.
Be Part of It!
Protest against these bloodbaths, and tell everyone you know why they should never attend a bullfight.
USA
NFL Star Calls a Timeout for Chained Dogs in PETA Video
Tyrann "Honey Badger" Mathieu is all about safety – and not just because he plays that position for the New Orleans Saints. So he suited up for PETA. In his new video, he tries to run drills but gets yanked back because he's chained to a goalpost. Keeping dogs chained up outdoors, he says, is like a "life sentence without parole." In previous PETA videos, he showed how dogs suffer in extreme cold and when left inside a parked car on a hot day. We love you, Tyrann!
FRANCE
Moulin Rouge Drops the Curtain on Animal Acts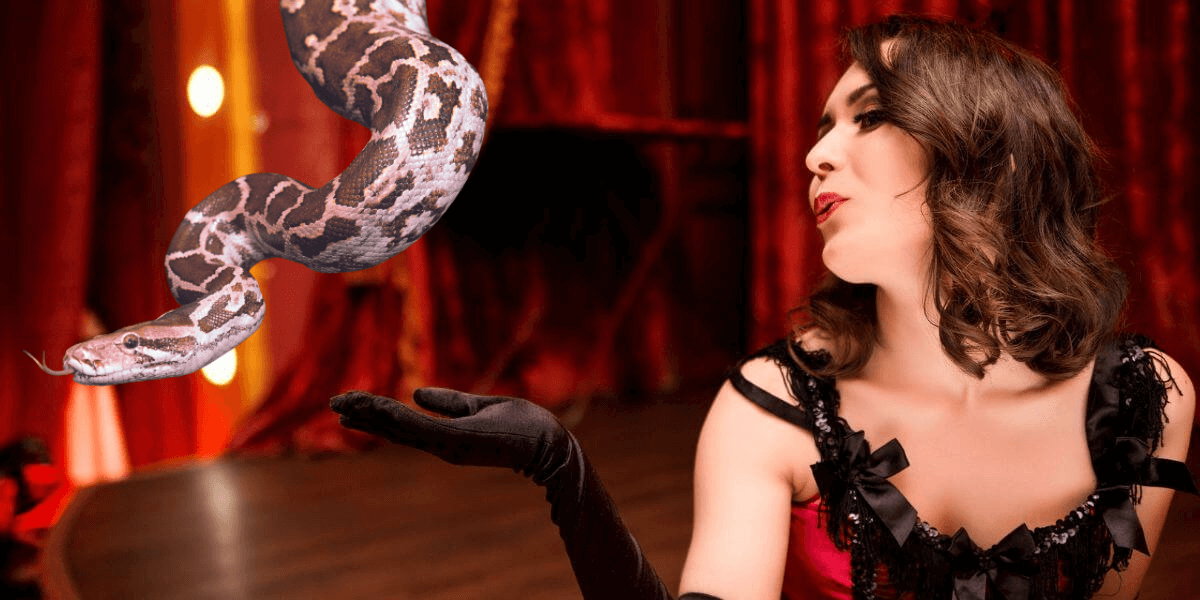 Python: © iStock.com/ePhotocorp | Woman: © Yuliya Yesina/Dreamstime.com
Enfin! After a long push by PETA entities, the Moulin Rouge confirmed that it was not only ending its python act but would also stop using any animals, wild or domestic. Animal acts had been part of the legendary Parisian cabaret since it opened in 1899.
Be Part of It!
Animals aren't ours to use for entertainment. Help stop their abuse by choosing only animal-free attractions.
USA
Victory! PETA Drives Ford to Make a Big Move for Animals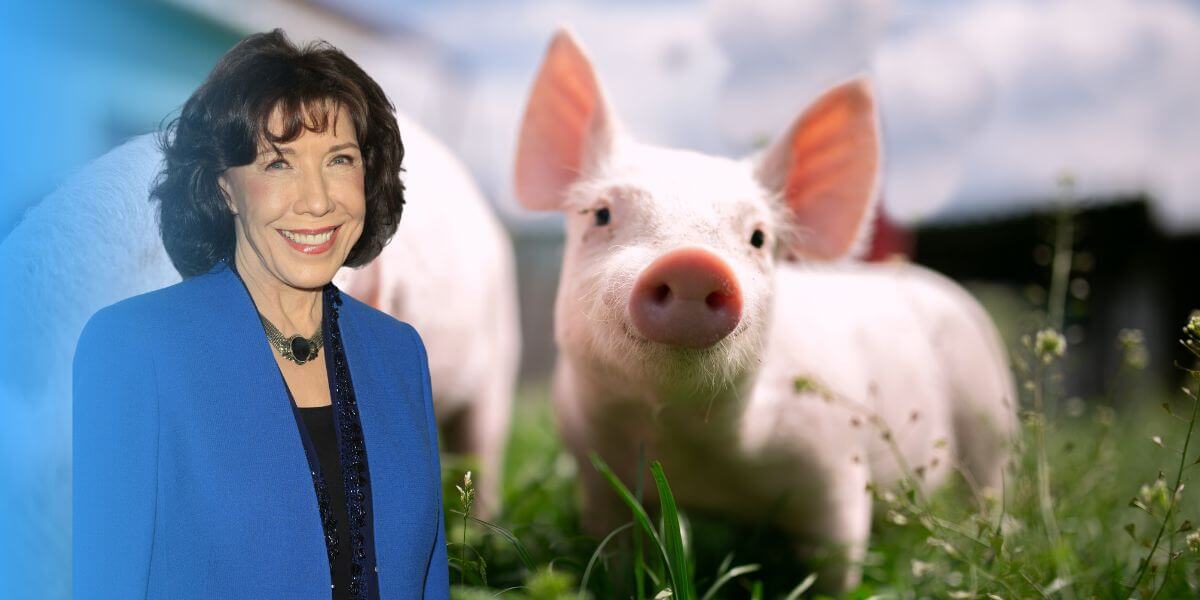 Lily Tomlin – © Joe Seer/Shutterstock.com | Pig – © Bogdan Cherniak/Shutterstock.com
Following months of pressure from PETA and over 125,000 of our supporters, including a letter from legendary Detroit native and PETA Honorary Director Lily Tomlin, the Ford Motor Company has banned all animal testing. The updated policy closes loopholes that involved paying others to conduct gruesome animal tests for the company. PETA had discovered that Ford paid for a study published in 2018 in which 27 pigs were killed, strung up by wires through their spines, and slammed with a high-impact pendulum in an attempt to replicate car crash injuries.
GLOBAL
Win! Travel Companies Cut Ties to Cruel Animal Rides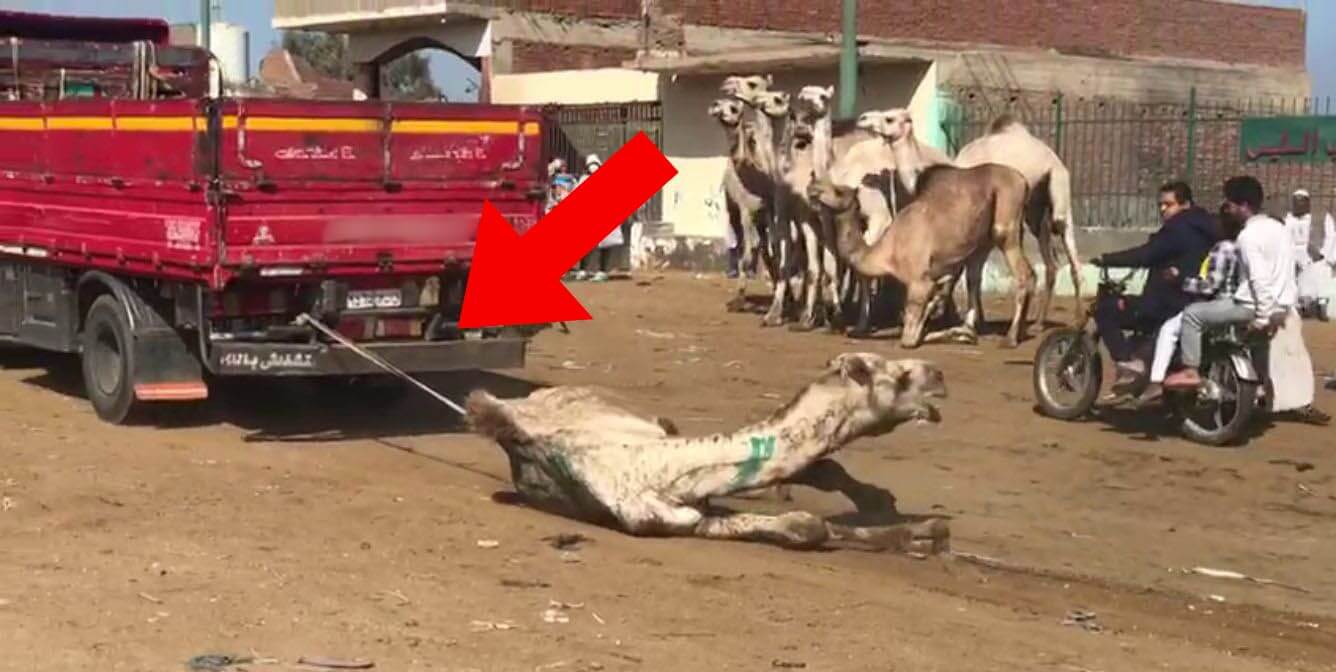 Eleven major travel companies agreed to stop promoting and selling tickets for exploitative – and downright cruel – animal rides at the pyramids of Giza after hearing from PETA. Thank you to Scott Dunn, TCS World Travel, Wilderness Travel, Travel Leaders Group, Tauck, Abercrombie & Kent USA, Virtuoso, Grand Circle Corporation, Klook, Geographic Expeditions, and Artisans of Leisure for their policy changes, which followed a PETA Asia video exposé showing camels used for rides at Egyptian tourist attractions being beaten bloody, yanked by the nose, forced to walk on their knees, and even dragged behind trucks. PETA supporters in the US, UK, and elsewhere in Europe have protested against the rides outside Egyptian consulates.
JAPAN
PETA Urges World Leaders to Save the Planet
PETA supporters called on attendees at the G7 summit in Hiroshima, Japan, to get serious about the climate catastrophe by promoting vegan living.
USA
Victory! Monkey Labor: Purple Carrot In, Whole Foods Out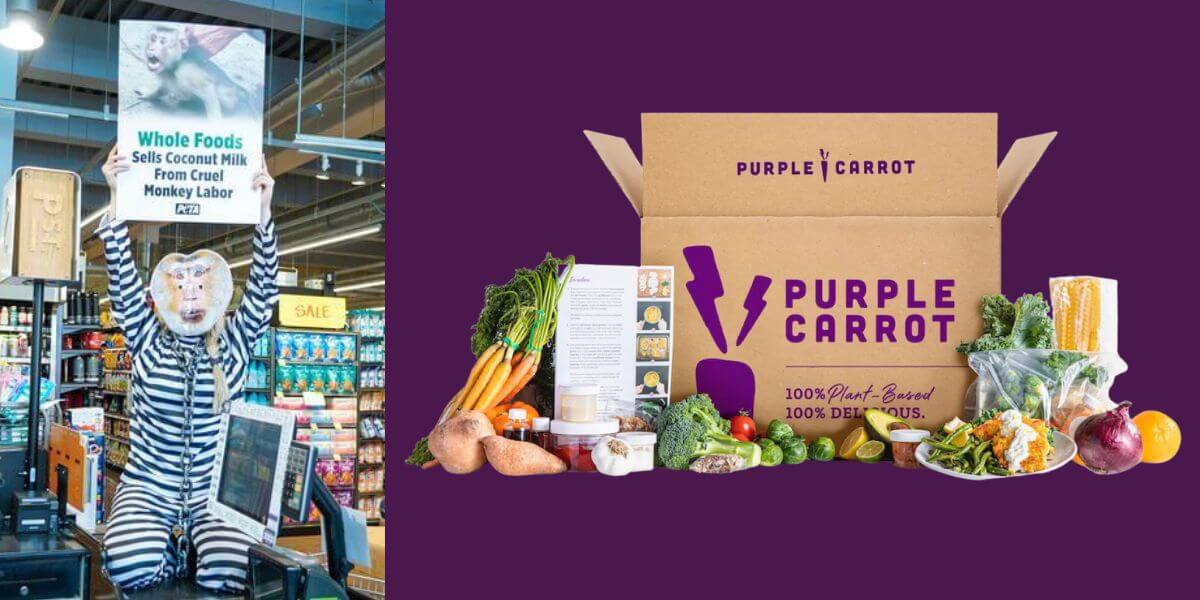 Right – © Purple Carrot
After learning from PETA that monkeys in Thailand are abducted from their forest homes, kept in isolation, chained, and forced via fear of punishment to pick coconuts, vegan meal kit delivery company Purple Carrot and food distribution company Performance Food Group cut all ties with Thai coconut milk. PETA is keeping the pressure on Whole Foods to follow suit. In Washington, DC, PETA members dumped humanely picked coconuts outside a Whole Foods store and held a sit-in inside that caused the store to shut down.
ASIA
Saved! PETA Appeal Saves 100,000 Monkeys From Chinese Labs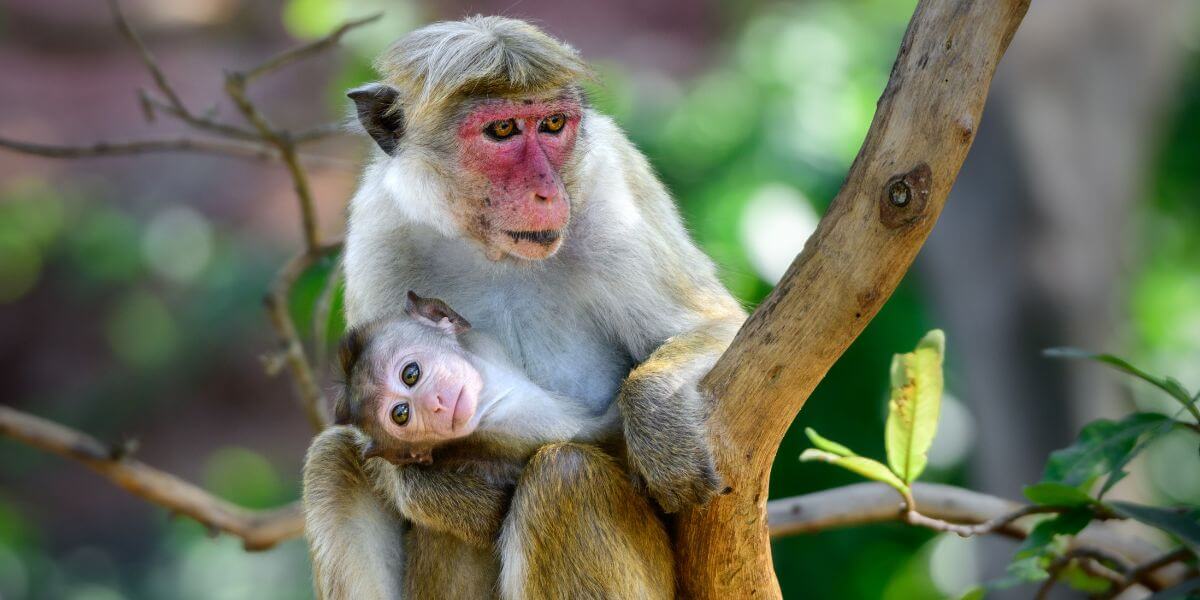 © iStock.com/Nilanka Sampath
One hundred thousand macaques are staying put after Sri Lankan animal groups and primate experts along with PETA urged Sri Lankan officials to cancel plans to ship the monkeys to China, where they would have likely ended up in laboratories and been killed within months. Macaques are social beings who live with their families in tight-knit communities.
Be Part of It!
Join the push to get the US Centers for Disease Control and Prevention to shut down the monkey abduction pipeline.
GLOBAL
Huzzah! Walmart Bans Great-Ape Greeting Cards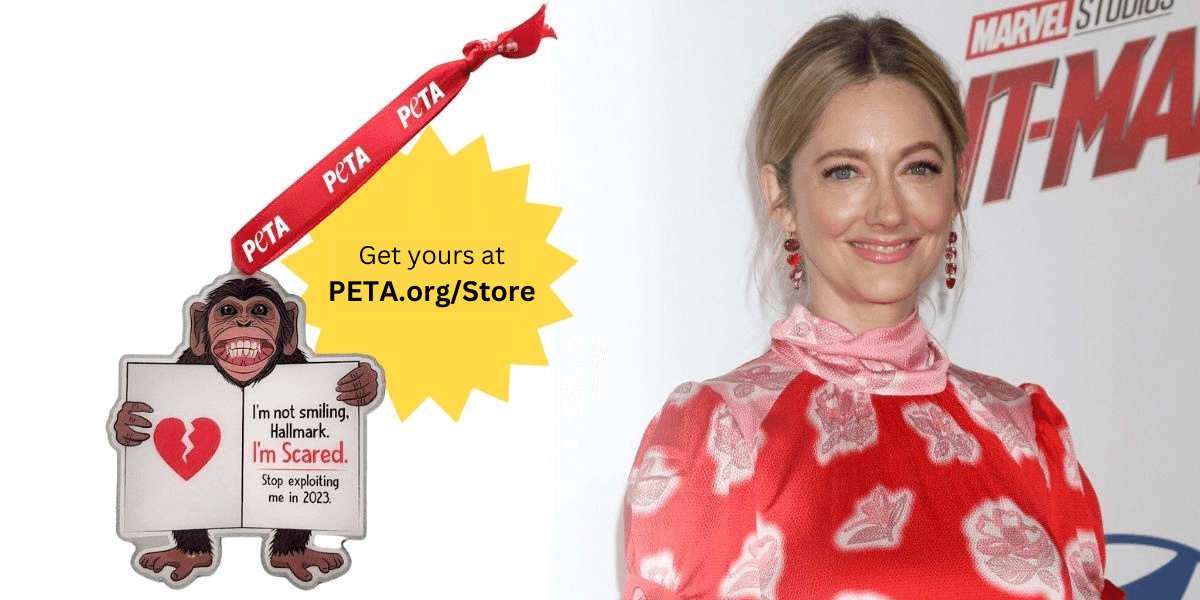 Judy Greer – © Kathy Hutchins/Shutterstock.com
Going, going … Walmart in the US and Canada will stop selling all greeting cards featuring demeaning images of chimpanzees, gorillas, and orangutans in its 5,000 stores after learning from PETA that they give the wrong impression. PETA has already prompted American Greetings, Walgreens, and others to ban the cards, and with the help of Judy Greer, we're now targeting Hallmark. In the UK, following an appeal from PETA UK, Moonpig did right by French bulldogs, pugs, and other breathing-impaired breeds when it stopped selling cards normalizing their suffering from respiratory ailments.
Be Part of It!
Urge Hallmark to stop selling cards that exploit chimpanzees. And snag one of PETA's limited-edition spoof ornaments calling out Hallmark's cruelty at the PETA Shop.
GLOBAL
NIH Pulls the Plug on Colombian Monkey Labs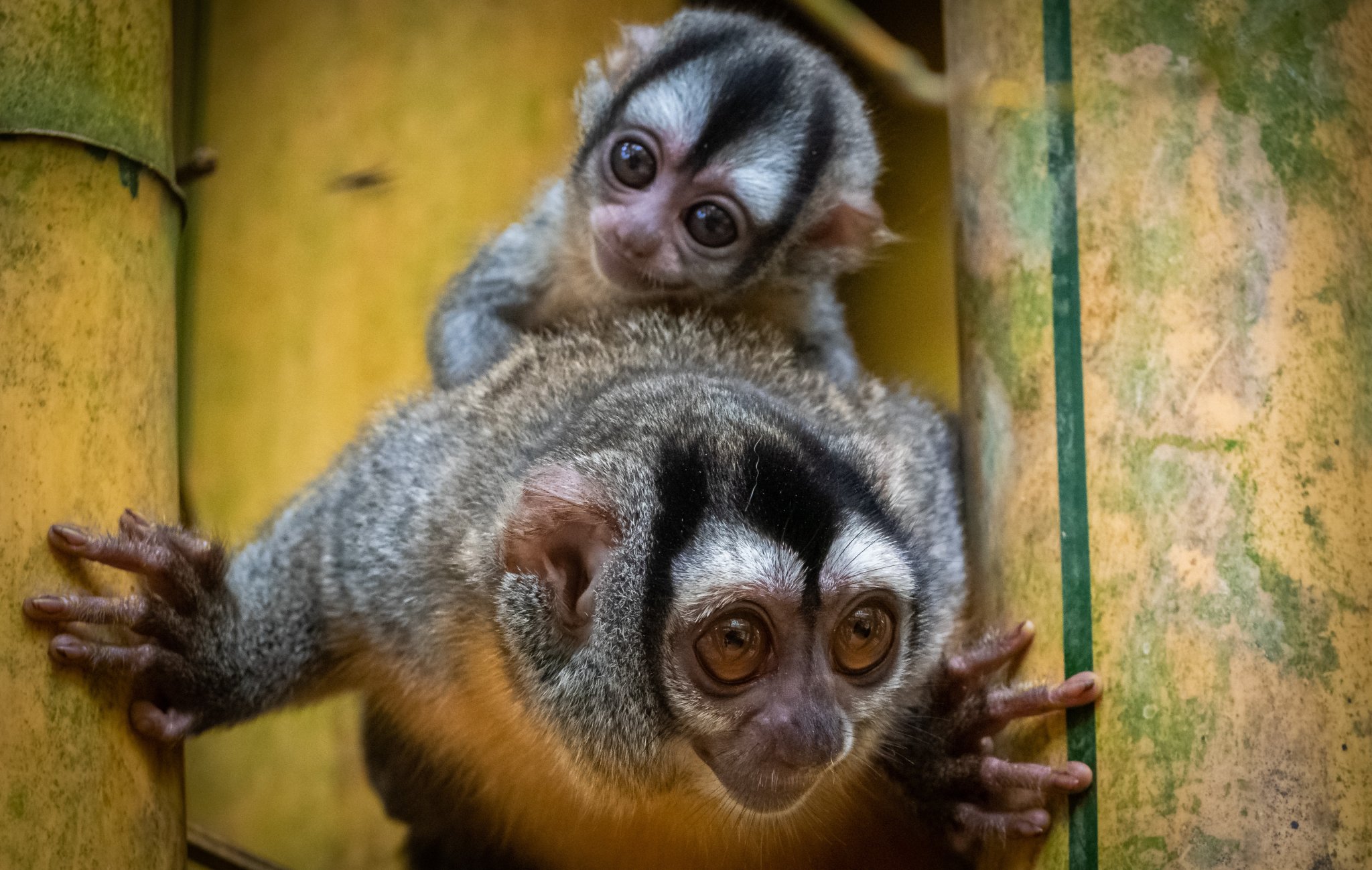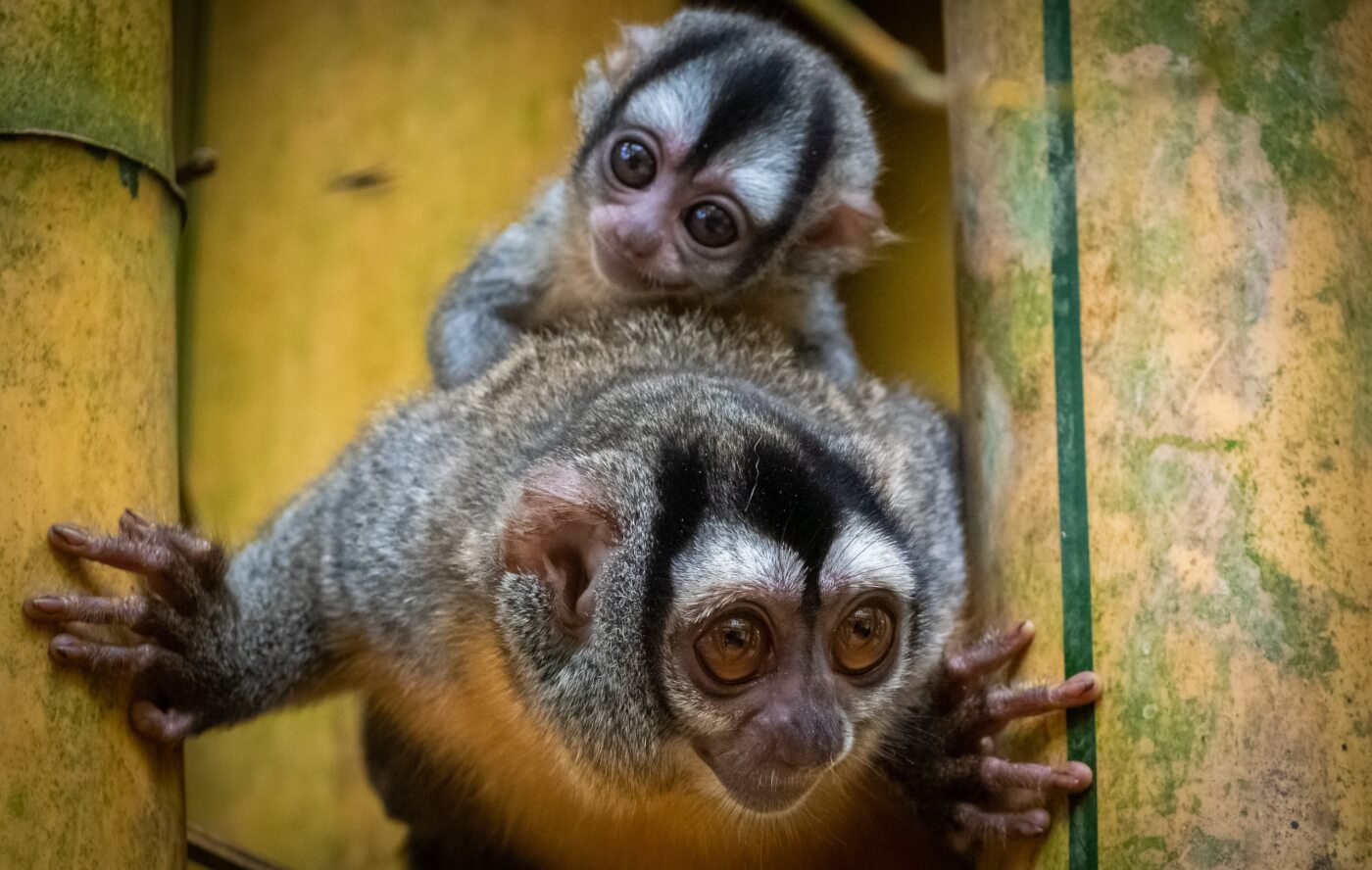 © iStock.com/Mathias Möller
The notorious Colombian laboratories, the Caucaseco Scientific Research Center and the Malaria Vaccine and Development Center, are finally off the US public dole after the National Institutes of Health (NIH) made them ineligible to receive taxpayer money in the wake of an 18-month PETA investigation that resulted in the rescue of more than 280 animals. The labs had pocketed $17 million since 2003 for pointless malaria tests on monkeys and mice that yielded no treatment or cure for humans.
Be Part of It!
NIH still funds animal suffering at hundreds of laboratories around the world. Urge your representative to support a bill that would end this nonsense.
USA
Ashley Jackson Addresses a Congregation and the World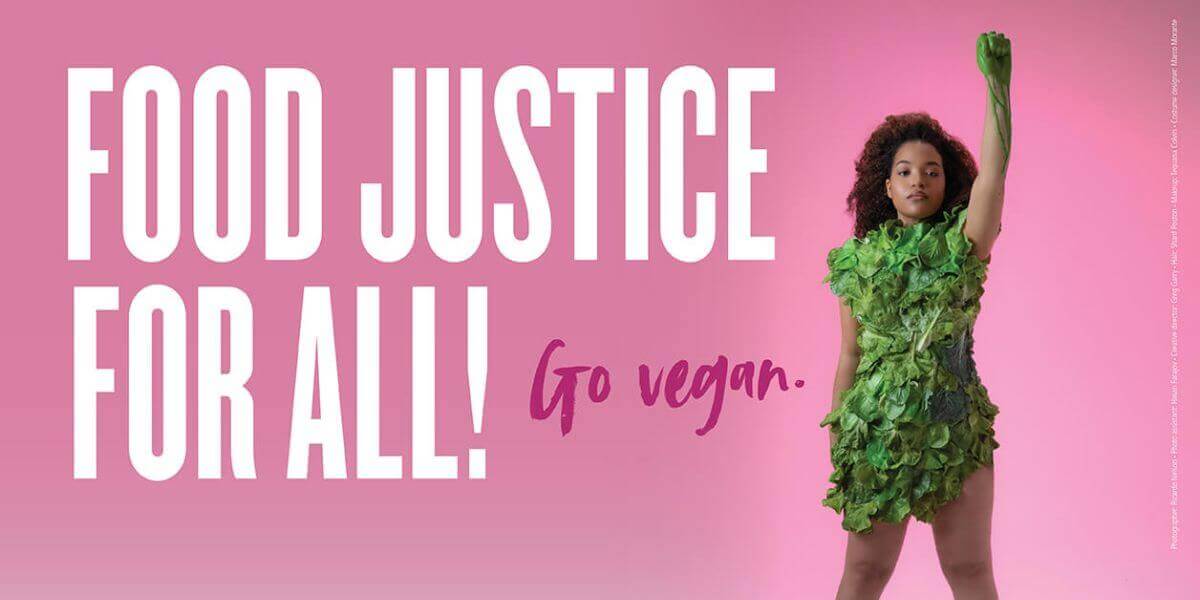 © Photographer – Ricardo Nelson | Photo assistant – Hasan Farajov | Creative director – Greg Garry | Hair – Sharif Poston | Makeup – Tequana Colvin | Costume designer – Marco Morante
Actor and activist Ashley Jackson – daughter of civil rights icon the Rev. Jesse Jackson – laced up her vegan combat boots in a new PETA campaign that was launched at the historic Metropolitan AME Church in Washington, DC. After speaking from the pulpit about justice, nonviolence, and the fact that animals are our fellows, she helped PETA serve up vegan meals and joined us in delivering bags of fresh veggies and fruits, beans, tofu, and soup mix, plus vegan starter kits, to underserved DC residents.
Be Part of It!
Make a difference in your community by sharing vegan food and vegan starter kits – which can be ordered for free – with others.
USA
PETA's Iditarod Campaign Gets the Thumbs' Up from Lewis Hamilton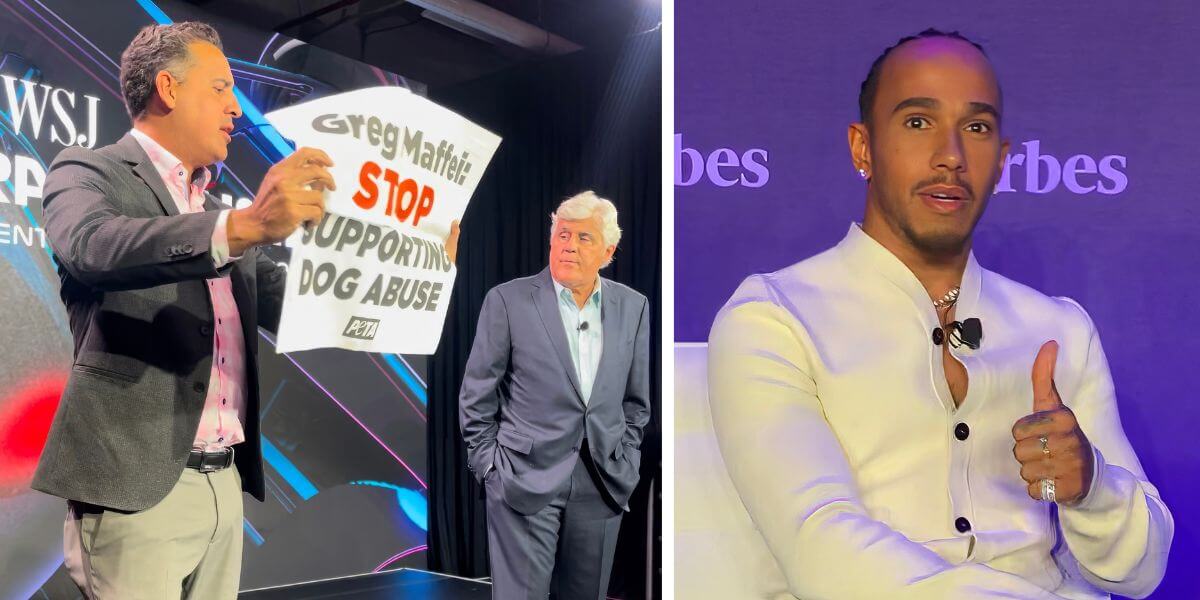 When PETA described how dogs suffer in the deadly Iditarod and other sledding races – and that those deemed too old are shot, bludgeoned, or abandoned – AARP listened: It removed dog-sled excursions from its website and pledged never to promote the cruel activity again. PETA supporters crashed the high-profile F1 Accelerate Summit in Miami – while Jay Leno was on the stage – to give Liberty Media CEO Greg Maffei, whose company bankrolls the Iditarod, the message, too. Supporters also "joined" Lewis Hamilton's panel at the Forbes Iconoclast Summit to urge the vegan athlete to denounce Formula 1's ties to the Iditarod, garnering a thumbs-up from Hamilton.
USA
The Rubber Hits the Road at PETA Spay/Neuter Demo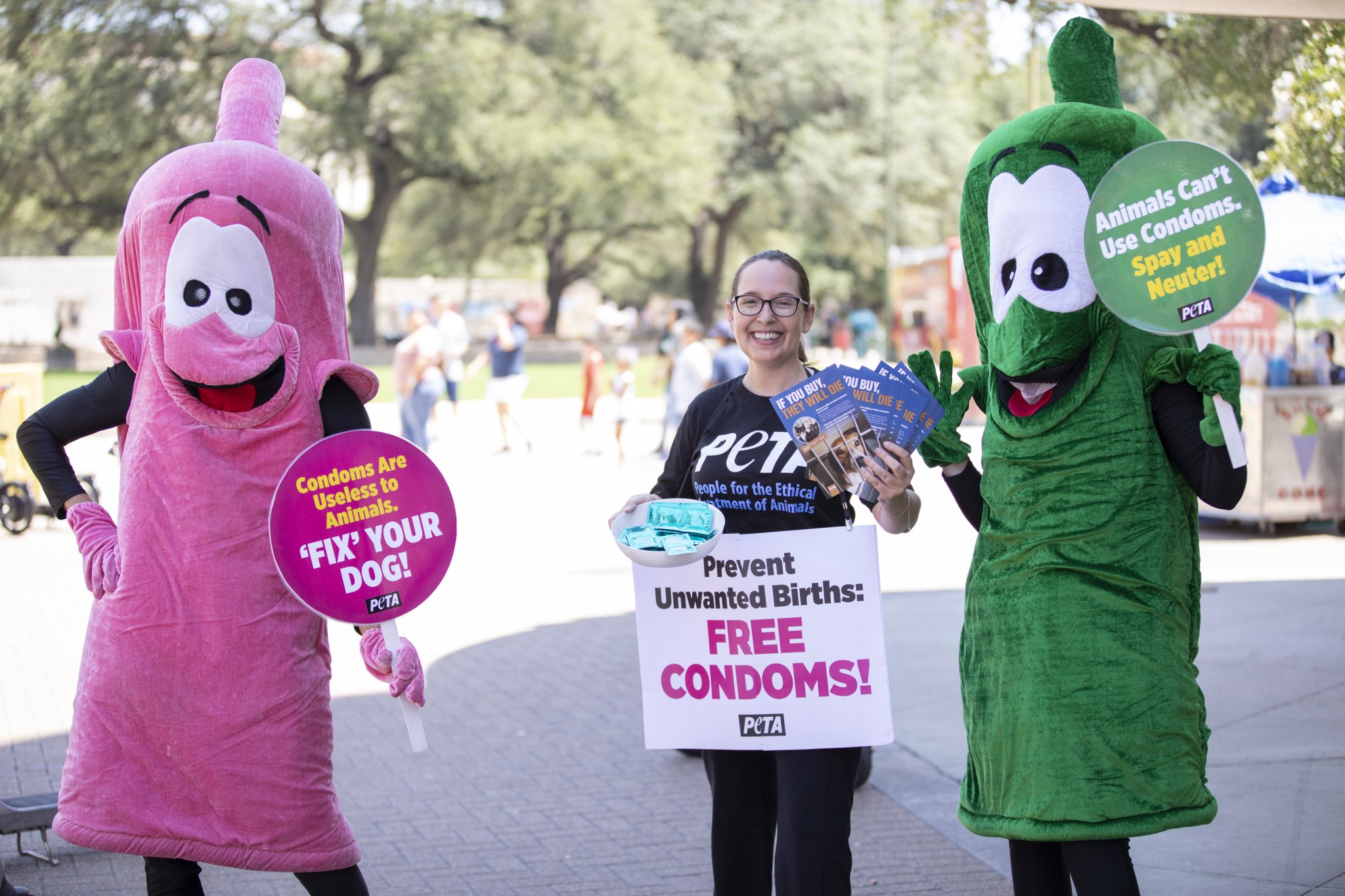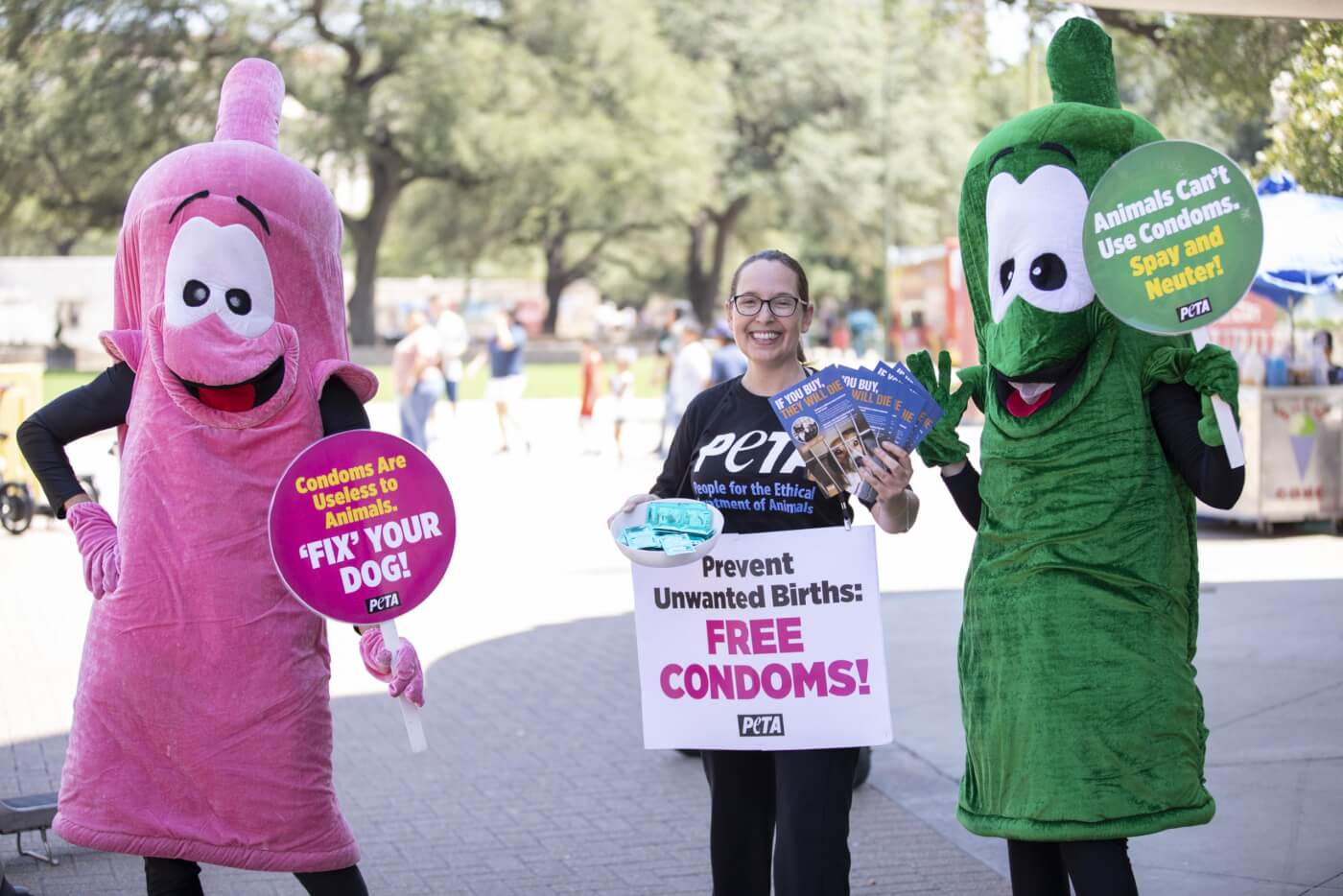 Why were a pair of PETA supporters dancing in condom costumes at a busy Texas intersection? To help end the homeless-animal overpopulation crisis, that's why. To that end, they handed out cruelty-free condoms donated by GLYDE and UNION to encourage passersby to take "fixing" their animal companions seriously.
---