Published by .
Vegan living is taking over everything, and the travel industry is no exception. Hotels and other vacation accommodations are working hard to meet travelers' compassionate expectations. To help you plan your next vegan vacation, we're listing the best vegan travel companies and destinations. Where will you go next?
If you're looking for a 100 percent vegan vacation—one for which you barely have to plan anything—consider a VegVoyages tour. The company offers green, cruelty-free, vegan adventures to off-the-beaten-path destinations in Asia.
Its vegan tour destinations include Bali, India, Laos, Malaysia, Sumatra, Thailand, and others.
If relaxing lakeside, surrounded by Mayan ruins, volcanoes, and coffee fields sounds like a vacation you'd enjoy, consider staying at the Laguna Lodge. This eco-resort is located on the lakeshore of Guatemala's legendary Lake Atitlán and exclusively nestled in its own nature reserve.
One visitor said, "Our family is Vegan so we were in heaven with all the options provided. (Highly recommend the scrambled tofu and french toast)."
To discover the best vegan-friendly places, festivals, and animal sanctuaries, check out Veg Jaunts and Journeys. This company is a full-service travel agency and tour operator that specializes in vegan travel. Arrange unforgettable tours or customized itineraries, knowing that every adventure you embark on will be animal-friendly.
Click to learn more about Veg Jaunts and Journeys.
Give yourself the ultimate gift for your mind, body, and spirit—a Holistic Holiday at Sea voyage. Passengers will visit Caribbean paradises, take yoga and vegan-cooking classes, attend holistic living lectures and workshops, dine on vegan food, enjoy nightly socials and entertainment, and, most importantly, relax aboard a luxury ocean liner.
Did we mention the crazy-good vegan food? Gluten-free, vegan options are available, too!
Gawking at marine life in tiny artificial tanks, like those at SeaWorld, is sad, but scuba diving lets you observe underwater animals in their natural habitat—without harming them. Dive the World lets you enhance your vacation by booking a one-day scuba diving excursion or a multiday live-aboard voyage, depending on your skill level and preferences.
If you want to dive during your travels but are new to scuba diving, Dive the World also offers scuba training courses.
Have you dreamed of traveling to Thailand? What about India? Italy? Intrepid Travel offers Vegan Food Adventures to all these destinations and insider tips on finding the best vegan eats and unique activities—such as vegan-friendly cooking classes.
Click here to choose your vegan food adventure.
This vegan hotel on the Pacific coast is equally friendly to humans and their animal companions. The Ravens Restaurant is all-vegan and focused on sustainability. The inn offers canoeing, biking, and vegan cheese-making and nutrition classes in one of the most spectacular settings along the entire California coast.
Click to learn more about staying at this vegan resort.
If you're looking for a spiritual retreat, Willka T'ika is for you. It features seven chakra gardens as well as yoga and meditation classes. Guests can take the gourmet cooking classes offered here and enjoy hiking and river rafting in the surrounding mountains.
The retreat and yoga center also boast convenient access to the renowned World Heritage site of Machu Picchu.
*****
Also, keep in mind that more vegan housing is popping up on Airbnb every day. And whether you're looking for a smooth time at the airport or even more helpful trip tips, PETA has you covered.
Want more animal-friendly travel tips?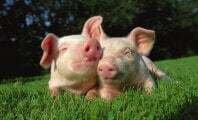 Order Your FREE Vegan Starter Kit