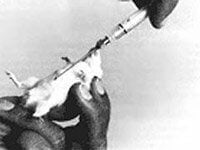 Existing Chemicals Program
In March 2012, the Environmental Protection Agency (EPA) identified a work plan for chemicals in need of further assessment under the Toxic Substances Control Act (TSCA). Enacted in 1976, the TSCA provides the EPA with the authority to require reporting, testing, and restrictions relating to chemical substances. The TSCA Work Plan for Chemical Assessments was updated in October 2014 to reflect updated data submitted to the EPA by industry on chemical releases and potential exposures.
The agency assesses chemicals on the TSCA work plan in order to attempt to identify unacceptable risks to humans or the environment. The criteria used for identifying chemicals for further assessment include concerns about children's health, neurotoxic effects, carcinogenicity, and exposure. As of August 2015, only five risk assessments had been completed, five initial assessments had been completed, and four assessments had been initiated. For one of these initial assessments, the brominated phthalate cluster, the EPA published a data needs assessment identifying data gaps that prevent risk assessment. Many of these gaps are likely to be filled with results from animal tests. As always, PETA's Regulatory Testing Department will review and comment on this and subsequent data needs assessments as needed in order to minimize the number of animals used.
High Production Volume Chemical Testing Program
Prior to identifying the TSCA work plan, the EPA's existing chemicals management efforts focused on its voluntary High Production Volume (HPV) Chemicals Challenge Program, which "challenged" industry to make baseline health and environmental effects data available to the public for nearly 2,800 HPV chemicals produced or imported into the U.S. in quantities of 1 million or more pounds per year. Even though most of these chemicals were already known to be either safe or harmful to humans, as originally envisioned in 1998, this five-year program would have required up to seven different animal tests for each chemical, potentially killing more than 3.5 million mice, rats, rabbits, guinea pigs, birds, and fish. Immediately following the program's inception in 1998, PETA launched a massive grassroots campaign and scientific initiative and negotiated an agreement between the U.S. animal protection community, the White House, and the EPA to minimize testing on animals. In the years that followed, PETA submitted public comments on every chemical test plan that proposed the use of animals and worked with individual companies to further reduce the number of animals used in the program. Sadly, approximately 127,000 animals were nevertheless ultimately killed. However, as a result of our efforts, this number is far lower than what was initially feared.
Follow the links below to learn more about this program. Please note that information in these links is no longer updated, but it may be useful as a reference or resource: