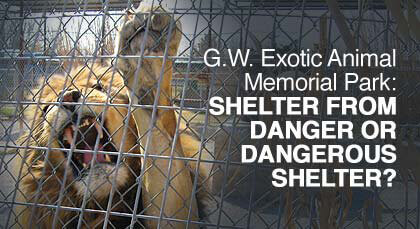 PETA's investigator was often required to work for more than 12 hours per day in dangerous conditions for little pay. Many employees simply stopped showing up. GW also attracted plenty of unsavory characters.
March 7: [C1] will no longer be working with us. When we got in to work this morning, DEA, ATF, U.S. Marshals, and SWAT teams were there to pick him up on an undercover drug bust.
March 21: [P] came back. Apparently, he was taken out to California by U.S. Marshals to be questioned for a string of murders that happened there a few decades ago.
March 25: Things are really different here compared to other jobs I have held, especially since we are paid in cash. There are no rules, really; there are plenty of sexual remarks toward women and LOTS of racial slurs here.
April 2: [D1] said that in the time that he has been there, which is about eight or nine months, he stopped counting the number of employees who came and left after 74 people left. He said he stopped at that number a long time ago. He said there are only two types of people who work here. The majority of people are felons who can't get a job anywhere else, and there are a few kids who came fresh out of high school.
April 6: A highway patrol car pulled into the parking lot, so [C] and [V] both started to freak out, thinking the police were coming for them. I saw [V] hide some pills underneath a big tub, and when the car left, she pulled them out, joking about hiding "her stash." I have seen her take a few pills throughout the day. [D] had spoken in the past about her being a "pill popper."
April 10: A new park manager started today; his name is "E". … He says that he used to work for Siegfried and Roy and actually trained the cat who attacked them.
April 10: [D2] said that someone like Timothy McVeigh should go blow up PETA like they did in Oklahoma City.
April 13: [D1] said that [F] went back down to Texas and is getting high again. She had a big problem with speed in the past. [D1] said that the reason why she came out here originally was because there was a price on her head back in Texas. [He said she] was dealing, and apparently she ran into a problem and ran off with a large quantity of drugs without paying off her dealer.
May 23: [R] [a new hire] mentioned how he has a hundred pit bulls. … He said that he and his father used to fight them, but they got caught and his father had to pay a $100,000 fine. So, to get that money, they sold 60 dogs. He said that if the price is right, he still fights them.
June 2: Today was another 13-hour day, with several of the last hours involving hauling around cinderblocks and bricks. I was so exhausted when I was finally allowed to leave that when I pulled out of my [parking] space in reverse, I almost ran into "M1." He then proceeded to pull his gun from the holster and point it at me. He then pointed it down and shot the ground right next to my tire.