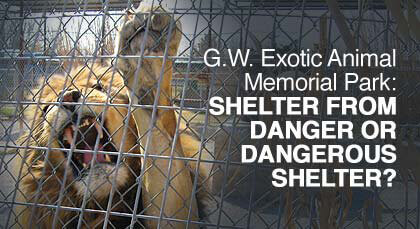 GW produces litter after litter of tigers, lions, bears, and other exotic animals. Newborns were regularly taken away from their mothers.
February 27: There are a lot of pregnant cats in the park. They are definitely breeding the cats to produce cubs. Overheard [J] talking about trying to buy a white tiger to start the bloodline. They are also trying to breed ligers and tigons, mixtures of lions and tigers.
February 27: Vet tranquilized mother bear (with a dart) to get her new, 4-week-old cubs out of the enclosure.
March 6: A female tiger had two cubs in the early morning. … One of the cubs was chewed up and killed by another tiger. The other cub had a puncture wound but lived. [D1] said that a lot of times, a male tiger will kill the cubs to get the female tiger to go back into heat. This happens pretty often at the park, he said. … Toward the end of the night, she had three more cubs, and one of them was chewed up and killed.
March 1: Overheard [F] saying that the mother bear from [February 27] was looking for her [missing] cubs around the cage and seemed depressed.
March 9: Another female tiger had cubs today. Four cubs were born in the very early morning hours. One was a stillborn, so three were alive. … One cub had two puncture wounds on his neck. … These newborns will be going on the road.
March 10: [J1] repeatedly talks about trying to mate Lily and Jojo—he really wants to have a baby chimpanzee.
March 24: [D1 said] they will attempt to breed one of the white tigers with a female orange tiger in hopes of getting a white cub.
March 29: Two more wolf hybrids had litters. … That makes three mothers having about 16 pups, three of whom have died since being born.
April 13: Two more tiger cubs were born this morning, and they were taken from their mother this afternoon. Unfortunately, I don't expect them to live too long. There were those two tiger cubs who died during the last road trip. … Another tiger cub died last night, and yet another one died today. That makes four tiger cubs dead within the last month or so, [possibly] from being overworked and stressed.
April 17: One of the wolf pups was sold tonight. … The rest of them [J1] is going to take to an auction tomorrow night to sell. They are all still being breast-fed from the mothers and are only about 4 weeks old. Some can barely walk yet.
May 4: There is a cage that has three lions in it. … There were two baby lions that had been born during the night. … [O]ne was alive and one was dead. … The other female in the cage with them is pregnant as well and will probably be giving birth shortly.
May 16: [J1] told me a story about how they had gotten a female [tiger] just so Goliath could mate with her, I believe her name was Sweet Pea, and Goliath killed her within 30 seconds.
June 9: Three new baby tigers were born today. … [T]he three cubs were [taken] out of the cage and [put] in a box in the office.