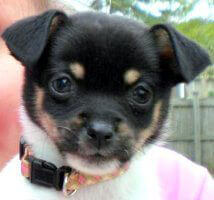 After sifting through more than 1,000 photographs of lovable mutts, PETA's panel of judges narrowed down the list to 10 finalists. Then we asked you to help us select the cutest mutt on PETA.org.
While we recognize that all the mutts in our competition are worthy of this noble title (the judges are recovering from cuteness overload), only one dog can win, and we've found the cutest! The Cutest Mutt Alive contest winner is … drumroll please … Stella from Summerville, South Carolina!
Stella is a lucky rat terrier and papillon mix who was adopted into a loving home by her guardian. She's full of energy and loves playing with her canine siblings even though they are twice her size!
Believe it or not, U.S. animal shelters are forced to put nearly 4 million dogs and cats to death every year because there are too many animals and not enough worthy adoptive homes. Of the millions of dogs who are abandoned and euthanized, many are mutts like Stella. One of the kindest things that you can do is adopt a dog from an animal shelter.
Congratulations, Stella—you're definitely a cutie!