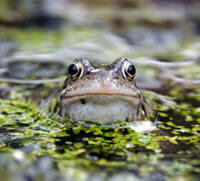 Charitable lead trusts (CLTs) can be an effective way for you to use assets to fulfill your charitable giving to PETA during your lifetime while ensuring that those assets are available to you or your loved ones when you need them to be.
A CLT is created when you place assets into an irrevocable trust. The trust then makes annual payments to PETA as your charity for a period of time that you choose, which can be either a specific number of years or a period of time based on the life or lives of individuals you name. These payments can be a fixed sum, or they can be based on the performance of the trust as evaluated annually.
When the period of time that you've chosen is complete and the trust terminates, the remaining trust assets are either returned to you (a "grantor lead trust") or distributed to your loved ones (a "nongrantor lead trust").
The value of a grantor lead trust, beyond the support that PETA receives from the annual payments, is that in the year that the trust is created, an income tax deduction is given for the value of the future payments to PETA. This is because the trust assets will eventually be returned to you. You are, therefore, considered to be the owner of the trust, and as the owner, you will also be taxed on the trust's income and capital gains.
The value of the nongrantor trust is that it can help you to transfer assets to loved ones (generally children or grandchildren) at a reduced cost, while providing significant support to PETA's programs. This is because, unlike the assets in a grantor lead trust, the assets that you place in a nongrantor trust will not be returned to you. Therefore, you are not considered to be the owner of the trust, and the deduction that results from PETA's being the charitable beneficiary works to reduce the gift and estate taxes that would normally be due on a transfer of assets to heirs. At the same time, you are not eligible for an immediate income tax deduction, but the trust is entitled to deductions for the payments made each year to PETA.
As always, we suggest that you consult with your independent financial, tax, or legal advisor for specific help with your particular situation, as the above is intended as an introductory outline only and PETA does not provide financial, tax, or legal advice. But if you would like more information about the various ways that you can benefit PETA, please click here.