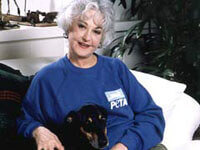 On behalf of my friends at People for the Ethical Treatment of Animals (PETA), thank you for considering a bequest or other planned gift to support PETA's vital and lifesaving work for animals. It could possibly be the most powerful gift you could make to stop animal suffering.
I'm often asked, "What more can I do to help save and protect the most animals?" My first answer is to keep fighting for animals by making compassionate, cruelty-free choices every day and encouraging those around you to do the same. But I've also strongly come to believe that making lasting gifts for animals in our estate plans is perhaps the single most important thing we can do to ensure animals have the strongest possible voice for their protection.
Here's why. As you know, our animal friends can't afford to lose an inch of the progress we've all fought so hard for. For more than 20 years, PETA has made tremendous strides on their behalf, changing minds and opening eyes all over the world. We've stopped the suffering of every kind of animal, no matter how small, or how neglected. We've fought for the rights of all animals, regardless of whether they are "cute" or cuddly. Thanks to our collective efforts, millions of animals have been saved and rescued.
PETA has been the leader in the battle to establish animals' rights to live free of pain and suffering from human hands. We work on every front, from the abuse of animals used as "entertainment" to the suffering of animals on factory farms, fur ranches, and in laboratories. And we effect change just as extensively—by utilizing everything from educational classroom presentations, undercover investigations, corporate boycotts, media interviews, and public demonstrations.
PETA has a proven track record of success. Each victory PETA wins for the animals is a stepping stone upon which we build a more compassionate world for all beings—and we will never give up our fight until all animals are treated with respect and kindness.
As part of your legacy to the world, I hope you will consider making a bequest or other planned gift to PETA. It would be the ultimate honor and invaluable in saving animals and reaching the most people with messages of compassion and respect for all living beings. Please know that you'll be helping to ensure that PETA can carry on our fight for animals wherever—and whenever—they need us!
Thank you very much,



Bea Arthur
To request further information from PETA, please click here.