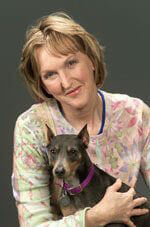 As a member of PETA's Augustus Club, you are one of our most cherished supporters. Thank you for deciding to leave a legacy of kindness to animals.
By including PETA in your estate plans, you are ensuring that our vital programs to alleviate suffering and promote compassion will continue as long as the animals need us.
There are so many wonderful possibilities for how your planned gift might affect the future for animals.
Imagine universities and corporate laboratories in which scientists are using non-animal research methods like computer modeling, cell lines, artificial skin, human simulators, and epidemiological studies instead of subjecting animals to terrifying and painful experiments—the results of which are not even applicable to humans. Your planned gift could help PETA work with universities, government agencies, and corporations to replace animal experiments with more sophisticated, non-animal methods.
Imagine an end to the deluge of dogs and cats who are dumped every day at animal shelters that are already teeming with homeless animals. Your planned gift could help PETA get mandatory spay/neuter laws passed in order to end the companion animal overpopulation crisis.
Imagine a factory farm with tiny crates, cages, and other torturous tools of the meat trade sitting vacant and abandoned—as obsolete as a butter churner or a crank engine. Your planned gift could help PETA convince people to switch from a meat-based diet to a cruelty-free, healthful, delicious, and Earth-friendly vegan diet.
Imagine models walking down catwalks in New York, Paris, and Milan wearing stunning fashions for which no animals were harmed. Your planned gift could help PETA work with fashion schools, designers, and retailers to promote alternatives to fur, leather, exotic skins, and wool so that animals will no longer be hurt in any way for shoes, clothing, and accessories.
Imagine circuses that don't imprison animals and movies in which any animal characters are either animatronic or computer-generated imagery. Your planned gift could help PETA pressure the entertainment industry to stop harming animals in order to force them to perform.
Through your Augustus Club membership, you are helping to ensure that all these visions for the future can come true! What a wonderful gift you are giving to animals, to PETA, and to future generations who will get to live in a world with far less suffering and far more compassion. Thank you so much!
Yours sincerely,
Ingrid E. Newkirk