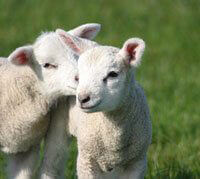 Augustus Club members receive all the benefits of being a PETA member, including a subscription to our colorful magazine, PETA Global. You are also entitled to a 15 percent discount on PETA merchandise, when you order through our online catalog. In addition, Augustus Club members receive thorough updates on our campaigns, current challenges, and victories for animals in our Augustus Club newsletter, mailed out three times per year.
Throughout the year, PETA hosts events that Augustus Club members are encouraged to attend. These events provide an opportunity to meet other local PETA members and bring together friends and associates who may be interested in becoming more involved in the animal rights cause. These events can also provide a unique and enjoyable opportunity to get a personal, behind-the-scenes look at PETA's work.
Augustus Club members will also receive special invitations to other PETA events, including galas and award presentation ceremonies. These events are intended to promote our cause in a very public way. Past events have drawn the support and attendance of celebrities, politicians, and policymakers—including Sir Paul McCartney, Alec Baldwin, Pamela Anderson, Kathy Najimy, James Cromwell, Bea Arthur, Alicia Silverstone, and Chrissie Hynde.
We try to meet with every member of our Augustus Club family to better understand which animal issues resonate most deeply with him or her. A member of our Augustus Club staff may occasionally call to thank you for a particular gift, update you on the progress that your donations have helped us make, or schedule a visit at your convenience.
Please rest assured that we never share personal information—such as phone numbers, addresses, and e-mail addresses—about our Augustus Club members with third parties. Any information you give us about your estate plans will be kept confidential. We do send out e-mail alerts from time to time to share important victories with you and to inform you of how you can help in specific instances of cruelty to animals and animal abuse (e.g., by writing a letter, sending an e-mail, or boycotting a product), so please do let us know your e-mail address, if possible.
If you are interested in becoming a member of PETA's Augustus Club, please inform us that you have included PETA in your estate plans using this form, e-mail us at [email protected] or call us at 757-962-8213.