Before the drunken partiers filled Pamplona's streets today to kick off the annual Running of the Bulls tormenting of bulls, scores of animal defenders from PETA U.K. and the Spanish animal rights group AnimaNaturalis creatively banded together to put the bulls' perspective in the picture.
Photo by Matt Goldsmith for PETA UK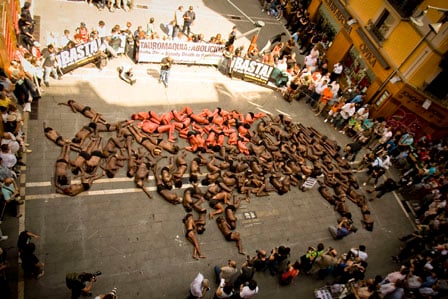 During this annual celebration of torture, bulls are jabbed with prods and sharp sticks to whip them into a frenzy. Then the panicking animals are stampeded through crowds of people, slipping and stumbling on the wine-soaked cobblestone streets. The exhausted bulls are later prodded into the bullring, where they are stabbed to death.
The majority of the Spanish population no longer supports this cruelty. In 2004, the Barcelona City Council declared Barcelona an anti-bullfighting city, and 40 other Spanish towns have followed suit. State-run Spanish television has also stopped televising the violence.
Let's call the Running of the Bulls what it really is—sickening cruelty to animals—and call on Pamplona's mayor to ban it.
Written by Karin Bennett