Update: Eighteen people with homes near the Yerkes National Primate Research Center have filed a complaint with city and county officials demanding that the facility be shut down. The female rhesus monkey still has not been found.

It shouldn't come as any surprise that the 4,000 intelligent, sensitive nonhuman primates at Emory University's Yerkes National Primate Research Center would want to flee their misery and deadly fate. But a brave monkey who escaped her captors at Yerkes this week is now loose in a foreign and frightening environment, and she faces injury, starvation, and possibly worse, thanks to the facility's failure to maintain safe and secure enclosures. PETA is calling on the U.S. Department of Agriculture (USDA) to investigate the laboratory for possible violations of the federal Animal Welfare Act.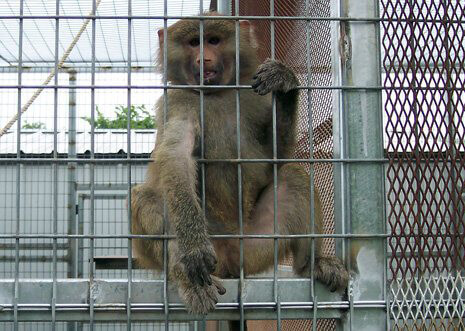 Yerkes, which is also one of the last facilities in the world to conduct invasive experiments on chimpanzees, has a sordid history of violations of federal animal welfare laws, including 10 violations in just the last two years and a $15,000 fine in 2007. It has been cited for scalding a monkey to death by allowing her to go through a boiling hot automated cage washer, restraining conscious primates with duct tape, and negligently causing the deaths of chimpanzees. We are urging USDA inspectors to file civil charges and levy substantial fines to let Yerkes know that it means business and that experimenters cannot violate the law with impunity.
You can help our fellow primates imprisoned at Yerkes by asking Congress to end to all invasive experiments on great apes.

Written by Heather Faraid Drennan